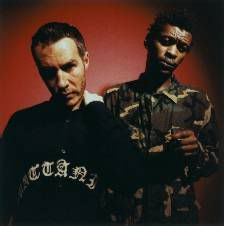 LAUNCH
reports that
Massive Attack
will return with the soundtrack to the new Luc Besson film,
"Danny The Dog"
. The soundtrack will be released on October 11th. The soundtrack consists of 21 separate pieces of music that will run chronologically throughout the film. This hopefully will be some wicked mood music!...Why not checkout the
"Danny The Dog"
jukebox
here
.
Billboard
reports on the ten finalists set for the
Shortlist Prize
. The
Franz Ferdinand
and
Wilco
albums are my bets, but from left field I could also see
Loretta Lynn
's album taking the prize.
The TBA tourdates on
controller.controller
's site for October 21 and 23 look mighty promising for shows in and around my neck o' the woods of Mississauga[ON], considering the October 22 show is in Hamilton[ON]. Hey, and controller.controller HAVE played Mississauga once before which I unfortunately missed. And controller.controller are touring with
The Organ
. So perfect!
Belle and Sebastian
will be selling their own calendar shortly and it will be available for pre-order from
www.banchoryshop.net
soon. Check out the spiffy photograph that is currently gracing the splash page of their site.
Elvis Costello
will be making the rounds this week on the talk show circuit including Sept 22 with
Letterman
, Sept 23 with
Regis and Kelly
, and Sept 24 with
Conan O'Brien
, while
The Thrills
will also make the rounds appearing Sept 21 with
Leno
and Sept 24 with
Craig Kilborn
. Oh, and
Wilco
with Conan O'Brien, Sept 29. [Info from
The Late Night Tv Page
.]
I tend to undervalue my own web skills considering how much better other people's sites compare to mine. However, during my first Continuing Education HTML class tonight, I felt like a downright genius compared to others in the class. No, I'm not boasting, just wallowing in the ease of which I coasted through the material covered tonight. Although, I'm sure it'll get more difficult as the course progresses. As I said yesterday, hopefully this'll lead to a career change down the road for me...and also to finally modifying this damn
Blogger
template!...ps. My second class of the course each week will be on Wednesday, so I'm definitely thinking about checking out the
Ben Lee
show at
The Mod Club Theatre
after that class.