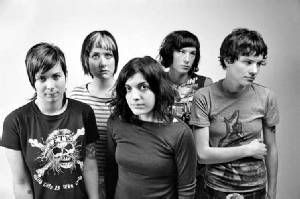 The PERFECT bill: chartattack reports that The Organ AND controller.controller are going on tour! I've known about this ever since the controller.controller site went through a redesign, and they posted a whack of upcoming shows. I've already stated in the past that controller.controller's "History" EP will definitely be in my end-of-year top 10 list, and The Organ's "Grab That Gun" LP will most definitely be in my year-end list as well. It is a damn fine record! I'm still in the process of absorbing the album but the CD starts off super-swell with the totally amazing "Brother" with its distinct, sharp guitar arrangements. Alot of reviews make comparisons to The Smiths and Joy Division. I guess those comparisons are true but there's still something very fresh about The Organ's songs.
Chromewaves beat me to posting this, but at least I know now that Ted Leo's coming back to Toronto for a show at The Mod Club Theatre on December 5. Tickets are $12...But I did predict[more like hope] that Ted might possibly come back to Toronto considering the path his initial tour dates were taking...Three times in Toronto in one year. Ted is the man!
Someone at 20hz posts that The Deadly Snakes will be playing Club OV's in Toronto on Friday October 15th, doors at 10pm, tickets $10 at the door.