movie review: Hero[2004]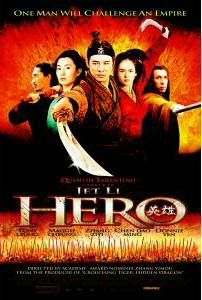 I can't remember the last time I went to the movie theatre twice in one weekend, but on top of Collateral which a friend and I saw on Saturday night[speaking of which we saw the film in a theatre which had only about thirty seats!], another friend of mine and I saw Hero Sunday night after a last minute decision. I've been seeing the trailers for several weeks and was very impressed with the visual scenery. The trailers themselves were already quite the eye-candy. Having seen Crouching Tiger and Hidden Dragon, I probably should have anticipated that Hero would have English subtitles, but I didn't. I have no problem reading subtitles but there is a process of adaptation until you reach the point where reading the subtitles, while trying to concentrate on the visuals on screen, becomes second nature. Thankfully, Hero was an interesting story both visually and story-wise. Jet Li plays the title role and is apparently the individual who has successfully killed the three assassins who stood the most chance in assassinating the King. Jet Li's character is brought in the presence of the King in a conversation to tell the story of how he killed the assassins, Sky, Broken Sword, and Snow. In a series of flashbacks, the story is told but as it unfolds, truths are revealed. And those truths are revealed in a series of layers. There's a dream-like quality to several scenes in the film, and the use of colour is quite interesting. Colour is not just a visual effect to make scenes more attractive but seems to have an identifying purpose, which after seeing the film, you might understand. Fighting scenes were spectacular if somewhat familiar if you've already seen Crouching Tiger and Hidden Dragon. Otherwise, it was fun to see fight scenes as characters ran through tree tops or walked over water. Weapons were utilized but scenes were made more palatable for the noticable lack of blood which in my opinion, had there been more, would have detracted from the clean visual imagery. The acting was neither here nor there for me. It was entirely adequate but there wasn't anything particularly nuanced about the actors' performances. The pacing of the movie, alternating between action sequences and storytelling, was done quite well to hold my attention until the very last scene. Overall, I recommend Hero as film to immerse yourself in for a couple of hours.

ps. I was a little disappointed at first that some people were walking out on the film, especially some families with children. But then it was probably not fair to the kids, who were unlikely prepared for the subtitles, and who I could audibly hear complaining about it.
Beautiful Labour Day yesterday down at the lake so I decided to take out the mountain bike, catch some of the Canadian International Airshow and check out Mix 99.9 FM's Beachfest. Caught the Canadian Idols finalists, Hawksley Workman, Jacksoul and Fefe Dobson. I'm not particularly fanatic about any of those artists but I really enjoyed Hawksley's song which had lyrics along the lines of "...last chance to be sad..." which had a surprisingly Ben Folds bounce to it. The Canadian Idols finalists are good singers but other than Theresa Sokyrka's dreamy version of "Cruisin", didn't really do anything for me. Jacksoul brought out some funk, soul pop tunes and their last tune in particular was warm, breezy, and soulful. Fefe Dobson ...well she's Fefe Dobson...the new-wavey bouce of "Don't Go" was fun, and I give her props for being a girl and bringing out the rawk. Photos to come soon.