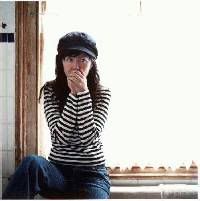 Has anyone checked out the new A Girl Called Eddy CD? I know absolutely nothing about her, born Erin Moran[and no, not the one from Happy Days], but was tempted to check out some songs on the 'net after seeing the cover of her CD. So after checking out the song samples on her official site, the mp3's at her record label site, ANTI-, and the mp3 at Dave McGurgan's blog, I've found myself quite enamoured with her music and vocals. The editorial review at Amazon.ca[written by Thom Jurek of All Music Guide] says,

"Moran[aka A Girl Called Eddy]'s songwriting approach is unabashedly romantic; it's torchy yet sweet, and her love of songwriters from Scott Walker to Burt Bacharach to Brian Wilson to Jim Webb is everywhere evident. In addition, her voice is a dead cross between Chrissie Hynde's and Karen Carpenter's."

Does that tickle your fancy? I need to run out and buy this now!
Billboard reports that "The Wilco Book" being released on November 15 will be bundled with a CD containing 12 tracks culled from the "A Ghost Is Born" sessions. Amazon.ca[Canada] site shows the release date as December 2004 while Amazon.com states November 15. So which is it? In any case, I guess you can always buy online.
The Toronto Star rates a selection of famous star's blogs including Zach Braff, Adam Sandler, Don Cheadle, Ian McKellen, Jeff Bridges, William Shatner, Rivers Cuomo, Fred Durst, Avril Lavigne, Alicia Keys, and Quentin Tarantino(?).
Weezer's Rivers Cuomo's version of "The Star Spangled Banner" is particularly moving today, September 11. Please check it out.