concert review: Microbunny w/ LAL, The Empires @ The 360(Toronto, Ontario), November 10, 2004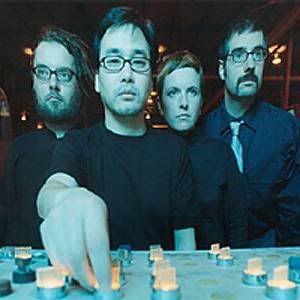 I decided to check out the show at The 360 yesterday. I've never been there considering it's just down the street from the Horseshoe Tavern and the Rivoli, two venues I've been to many times. It's probably due to the fact that it's got a reputation as being a 'rock' club; I've seen listings for the club before but for the most part, the bands were either unknown to me or didn't appeal to me. So it was strange to see that Microbunny and LAL were going to play the venue. I'm not quite up to speed with Microbunny; I just bought their most recent CD "Dead Stars" recently but haven't listened to it much, although my impressions of it are good. They have a trip-hop, downtempo vibe with some dub/rock similarities to King Cobb Steelie, of which Microbunny's Al Okada used to belong to. LAL are trip-hop, downtempo as well but with a little more emphasis on electronic beats and jazz tendencies, with a slight South Asian influence(considering the ethnicity of LAL's primary members). The opening band was The Empires who I'd never heard of but was thoroughly interested in checking out after hearing their mp3's at their site.

The Empires' music definitely has British influences, which if not quite shoegazer-ish, does lean more towards the Catherine Wheel brand of miasmic rock. The addition of keyboards on several songs was an interesting choice. At times, their driving guitars and rhythms reminded of another local band, Uncut. Sorry, I'm at a loss for words for anything else to say about the band, but I was definitely impressed and would guarantee that any of you music anglo-philes out there would dig 'em. I think NME would dig 'em also; the band's already half way there with their 'The' band name. :-)

For the evening, LAL forgoed the band environment it chose for its Harbourfront gig this past summer, and performed as the duo[Rosina Kazi and Nick Murray] it originally set out as. There appeared to be a general disinterest amongst the sparse crowd of onlookers who for the most part seemed to be there to socialize and drink. Of course, there was the polite applause after each song. It's a shame. It must have been the wrong crowd. I, for one, was quite impressed. It wasn't so much about their stage presence as it was about the music. 'Murr' worked the equipment quite masterfully creating wonderfully sexy loops and beats. Rosina's demure jazzy vocal style, which I found at various times similar to Esthero or Louise Robinson of Lamb, was well suited to the beats laid down by her partner. Apparently there was a technical problem, at which time Rosina chose to improvise her lyrics and sing something along the lines of "I think the computer's crashed". Moments later the equipment was working again and Rosina sang something along the lines of "I'm so glad the computer's working again". Lyrically the band's quite in tune with topics such as their South Asian Heritage and the environment, and for the most part it's quite natural without ever sounding preachy. Set list was as follows from what I remember:

Brown-eyed Warrior
Creep
Invincible
? (something about the environment)
Raindrops

Microbunny came on after midnight to a dwindling attendance but there was a hardcore group of us that held fort. During LAL's set I had taken up occupancy at a table towards the stage, alongside the wall of the soundbooth which was on the left side of the club. So I was quite comfortable for Microbunny's set. Microbunny took the stage and began their set quite non-chalantly. The band is a four-person set up with Al Okada on keyboards and guitar, Rebecca Campbell[taking over for Tamara Williamson who's apparently in France on tour] on lead vocals, keyboards and various instruments, and a couple of other guys on drums and stand-up bass. Rather than the trip-hop, downtempo vibe that I was expecting, in this live setting, Microbunny were much more varied sounding. I could draw similarities to Death Like Vegas, who like Microbunny, are much more than the sum of their influences. Microbunny have influences ranging from trip-hop, jazz-rock fusion, dub, and lounge. The shift between styles sounded quite natural and was tied together quite nicely by the gorgeous vocals of Rebecca Campbell. Al Okada was quite versatile, switching gears often midset between playing guitar and keyboards. The drumming was fantastic and was especially invigorating on the more dub-influenced rhythms. The stand-up bassist provided some solid basslines which sounded quite a bit more substantial than I usually hear from bass players. I have nothing else to say but I suggest letting the music speak for itself. I bought their self-titled CD at the show yesterday and have been digging it all day!

I didn't take any photos from the night, but don't let that be any indication that the bands above are not worthy of your attention.
In other news, Rufus Wainwright will be at The Mod Club in Toronto on December 9th. [from foxymoron]