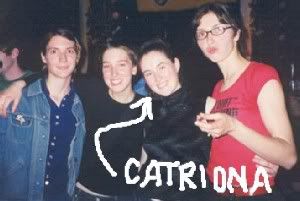 The Secret[featuring ex-Plumtree member Catriona Sturton] are touring Canada. In actuality, Catriona used to be part of the band when she was living in Japan. So this is a reunion tour of sorts. Check out some mp3's here. Tour dates this month are as follows:

Thu. 11 London, ON @ Grooves (afternoon in-store)
Fri. 12 Hamilton, ON @ The Casbah
Sat. 13 Windsor, ON @ The Carhole w/From Bubblegum To
Sky, Low Tones
Sun. 14 Toronto, ON @ Sneaky Dees w/Uncut (Wavelength)
Mon. 15 Guelph, ON @ The Ebar w/Whitebelt Octopus
Tue. 16 Montreal, QC @ Le Divan Orange w/Quinzy
Wed. 17 Halifax, NS @ Ginger's w/Al Tuck, Ashley
Moffat
Fri. 19 Sherbrooke, QC @ Le Magog
Sat. 20 Ottawa, ON @ Zaphod Beeblebrox w/The Parkas
Sun. 21 London, ON @ London Music Club w/Grassy Knoll
Mon. 22 Toronto, ON @ Rancho Relaxo w/Spitfires &
Mayflowers, The Bicycles

[the original e-mail from Catriona can be read at the Plumtree Yahoo! Group]
Microbunny will be playing a show tonight @ the Rivoli in Toronto, with guests LAL and The Empires. Tickets $8. According to the Microbunny website, Rebecca Campbell will be taking over vocal duties from long-time collaborator Tamara Williamson. Update[3:57 pm]: The show appears to be at The 360 Club NOT the Rivoli. ...at least they're in spitting distance of each other.
Rumours of Gene breaking up[please no!] at the You'll Never Walk Again Yahoo! Group[Gene fan group]...on a related note, the Gideon Coe 6music[BBC] session originally broadcast on November 8, 2004, can be downloaded here
Teenbeat's Unrest will be reforming, as part of Teenbeat's 20th anniversary, for some shows in Washington D.C. on February 23rd, 24th and 25th of 2005. [from copacetic]
Just a reminder that Lederhosen Lucil is going on a Ontario fall tour starting today in Ottawa, and will be in Toronto on November 28th @ The Gladstone Ballroom.
The Londonist, part of the Gothamist ring, made it's unofficial launch yesterday. And Gothamist will also be launching in Toronto. [from daily refill dot com]
Amazon.ca has posted its editors' picks as well as customers' picks for the best of 2004, in categories ranging from music, DVD's, books, and so on.