concert review: Clinic w/ Sons and Daughters, Midnight Movies @ Lee's Palace (Toronto, Ontario), November 5, 2004

First band up that night were Midnight Movies who are a 3-piece from Los Angeles. I walked in a quarter ways into their set and made my way towards the stage where a small but interested crowd was watching the band while the majority of onlookers stood around the perimeter of the floor area. The band's crushworthy female drummer took lead vocal duties while the guys in the band took over bass, guitar, keyboard and programming duties. The sticker on their CD[which I bought at the show] describes their music as "sexy, spacey, psychedelic rock" which is an appropriate description. The vocals as well as the more droney aspects of their sound reminded me alot of Stereolab. At times, there was a slight electro-pop sound to their music, especially with the looping programmed sounds from their Mac laptop. I thought the keyboard playing on one song was a little off time signature but otherwise the vocalist's drumming was adequate, if not interesting, and the guitarist was fairly proficient. Some poster at the band's website guestbook was critical of the band, accusing them of playing up the attractive lead female on drums angle, but I say more power to 'em. After all, who necessarily wants ugly rock stars?


Sons and Daughters from Scotland were up next and were damn exciting to watch up close. The previous time I had seen them was opening up for Franz Ferdinand this past summer at the cavernous Kool Haus in Toronto. The guitars were amazingly punchy while the bass and drums seemed to resonate through the wooden fixtures of Lee's Palace. Their music combined some rootsy elements(a country twang, some folky elements like banjo) with a rockier side(the aformentioned guitar sound) and some nice melodies. The co-lead vocalists, male and female, were most successful with their vocal interplay on "La Lune" which sees saw the vocalists exchanging "La La La La La"'s with each other, each exchange growing in intensity from the last. The band played songs off their "Love The Cup" CD which was recently rereleased on Domino Records [the original release being on Ba Da Bing! ]. Speaking to the male vocalist at the merch table after the show, I complimented the band on putting on a marvelous set.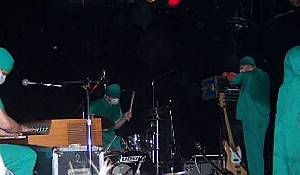 Clinic, sporting their usual hospital scrubs and surgical masks, made their way on to stage amongst amidst a rousing sound of applause and cheers from the crowd. Learning from Sons and Daughters' set that me standing near the front in front of the speakers without ear plugs isn't wasn't necessarily a good idea, for Clinic's set I decided to stick some rolled-up tissue paper into my ears. Sons and Daughters were not really that loud of a band except for some punchy guitar arrangements but Clinic were definitely not a band that you would want to stand in front of the speakers without ear protection. The rolled-up tissue substitute for ear plugs helped greatly. With my hearing protected, I watched and enjoyed Clinic's set from from the elevated level just left of the stage. [Actually, I also watched Sons and Daughters' set from that vantage point.] That was probably one of the best unobstructed views I've ever had of a concert ever. Clinic played a set of energetic art-punk tunes that at various times reminded me of The Fall and Public Image Limited. There was a prominent organ sound on tunes like "Walking With Thee"(pretty much the only song of theirs I knew by name) and other songs which I recognized off their CD "Walking With Thee". The lead vocalist also used an interesting instrument that had a keyboard and a tube that one would blow into; it sounded sort of like a mini-accordion. Unfortunately, I haven't managed to get more acquainted with their music and I would have loved to been one of those in the audience yelling out each time the band introduced their next song by name. Otherwise, for someone unfamiliar with their music in general, I was quite impressed. The band came back for two one-song encore's that started and stopped with corporate efficiency. With a "good-night Toronto" or whatever the band said after their second encore, the band left the stage like Batman[another masked man ;-)] disappearing into the night.

[check out my photos here]