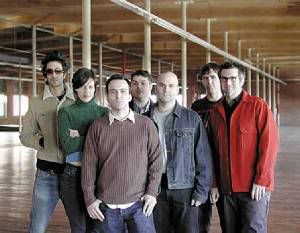 The
Pernice Brothers
' news update[dated November 19th, 2004] has everything you'd want to know about their new live 2-disc set(one CD and one DVD) being released next month. As well, the new Pernice Brothers album will likely be coming out in March 2005 rather than February, what with Joe Pernice moving up to Canada with wife Laura. Or as the news update puts it:
"move to Canada" = "new record later than expected"
Sarah Liss of
NOW
reviews the
Devendra Banhart
show in Toronto last week at the
Music Gallery
. Damn, I didn't know there was only 200 people at the show. Now, I feel special for being there. Although, if
my little ol' review
seems a tad
too
positive, I could add that the extended jam that Devendra and band performed to end their encore went on a tad too long. ...Or maybe, it's just that my ingrown toenail was fucking killing me that night.
Guided By Voices
on
Late Night with Conan O'Brien
, December 2, 2004. [from
Matador Records
news]
My Indie World
makes a case for
Annie
. And I for one am convinced.
Eye
has its annual
Holiday Record Guide
and
NOW
has its annual
Disc Guide
as well. Hopefully making my Christmas shopping this year easier.