concert review: Lali Puna w/ Styrofoam, The Go Find @ Lee's Palace(Toronto, Ontario), November 15, 2004

On the day of the show, I discovered that the bands on the bill were all label-mates having released music on the Morr Music label out of Berlin, Germany. The label's Yahoo! match description describes the label as progenitors of IDM[which I've come to realize means 'Intelligent Dance Music'] and electronica. Morr Music's site currently has a tour schedule that promises "to treat audiences all over the U.S. and Canada to a night full of proper indie-pop and live electronics" and the Styrofoam sound sample[on the Morr Music site] even credited Ben Gibbard. With all this info in mind I was totally psyched to catch the whole show.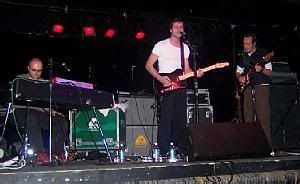 Had I not been famished and stopped to grab a bite before the show, I would probably been able to make it for the beginning of The Go Find's set. Unfortunately, I missed about the first 20 minutes of their set. The band is comprised of 3 gents on keyboards, guitar, and bass. And to make things more confusing, the same guys who were on stage as The Go Find later come on stage as Styrofoam. I came to realize[after reading an article in NOW]that Styrofoam is Arne Van Petegem's project while Dieter Sermeus is the brains behind The Go Find. And the other dude...well I guest he just plays guitar. Hey, combining band members is efficiency at its best! Although considering I had never heard either of those bands, it was hard to tell the difference[if there was one at all] between the two. Given the fact that I had ducked out of Lee's Palace after The Go Find's set for a bit then came back just as Styrofoam were taking the stage, it all seemed like one set to me. So forgive me for not distinguishing between the two. I can say that both bands to varying degrees had a way of achieving a balance within their respective sets between indie-rock thrash and electropop-isms. And yes, when Deter sang especially[and no, he did not have a German accent], Styrofoam/The Go Find sounded alot like The Postal Service.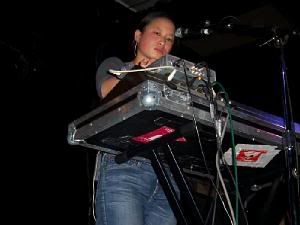 Ever since hearing Lali Puna's subtle yet lovely take on the Moroder/Oakley 80's hit "Together In Electric Dreams", with its whispered girl-ish vocals, modest electronic beats and blips, and soothings synth sounds, I've been really intrigued to check 'em out further. Having missed Lali Puna on their last jaunt through Toronto(either last year or the year before), I was really glad that the band decided to come back to the city. Of course, most bands that create good music AND are fronted by an attractive female singer, will always get my attention. Lali Puna is fronted by the lovely Valerie Trebeljahr on vocals and keyboards, and is rounded out by a trio of gentlemen on keyboards/samplers, drums and guitar. The Stereolab tshirt that Valerie was wearing notwithstanding, Lali Puna's music had an obvious affinity with Stereolab's pop-meets-drone sensibility. The electronic aspects[keyboards, samples, beats] were tasteful but never overpowered the organic elements[drums and guitars] and the overall pop sensibility of the music. I was really enamored with Valerie's girl-ish vocals which on a mellower tune like "Faking The Books" seemed to float in and of my subconscious, alongside the subtle electronic sounds and gentle strum of a guitar. Lali Puna are really a dichotomy, on one side quite laidback and sweet, but on the other side urgent and rhythmic. Such a dichotomy kept things interesting. The only technical problem I could recall was not being able to hear her vocals on one song, which did get resolved a minute or two into the song. Sporadically throughout the evening, Valerie humbly said her 'thank-yous', but not much else. But she did smile several times, which spoke a thousand words. Modesty was really the best policy that evening, and I couldn't have asked for anything more.

[photos here]