concert review: The Fever w/ The Uncut, From Fiction @ El Mocambo(Toronto, Ontario), November 19, 2004

Last Friday I caught the show at the El Mocambo featuring The Fever with The Uncut and From Fiction. I'm not a big El Mocambo fan which is surprising considering it's clean and has a nice atmosphere. However, I think I've realized why I usually don't like the El Mocambo. During quieter shows, the spectators at the tables are sitting down and persons left standing[like myself] are usually relegated off to the sides. At least the times I've gone there, people are so laid back that no one ventures up to the front of the stage to watch the band. The show this past Friday was in all respects a much louder and more energetic show than anything I've seen at the El Mocambo, so myself and a bunch of others staked out our spots at the front of the stage to watch the show.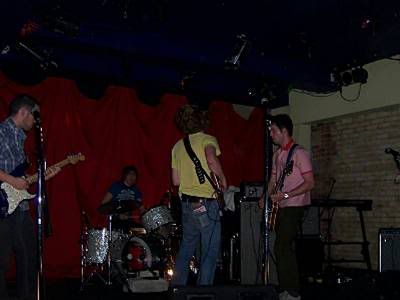 First up were From Fiction who are four young gentlemen from Hamilton, Ontario. I actually walked in midway through their set, but by golly, were they loud. I made a beeline to the bar, grabbed a beer, rolled up some tissue paper and put them in my ears. Their music had a great start-stop dynamic with angular guitar arrangements and rhythms with a invigorating math-rock influence. I actually was quite impressed when the band played instrumentally and I felt that the vocals sometimes were a distraction. The drummer's proficiency was apparent, with his intense rhythmic style. The two guitarists and bassist were exciting to watch on stage as they contorted their bodies and sauntered about on stage amidst the angular guitar sounds. Vocally, I was reminded of the Archers of Loaf's Eric Bachmann, sort-of rough-hewn and scratchy. The band members were younger than I anticipated but definitely had the skills. And they know how to bring the rock.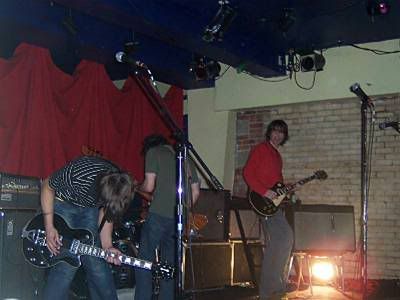 The Uncut were up next. So when did they add the 'The' in front of their name? I'm a fan of their Joy Division/New Order-esque guitar-rock sound. That night the vocals seemed rougher than I remembered the first time I saw them. Maybe the guys were a bit tired from all the touring they've been doing recently. As usual, the music's backed with solid drumming and meaty basslines. Co-vocalist Ian Worang got into Slipknot-mode as he slung his guitar low and hunched over his body as he played his guitar. Other co-vocalist Sam Goldberg sang vocals on a couple of songs including an interesting tune which he introduced as a waltz; interestingly enough, it had a waltz-like feel and was a definite departure from their usual guitar-rock sound. And did I mention that Mr. Goldberg reminds me of a young Liam Gallagher, although not nearly enough that I'd want to kick his ass. ;-) The band played selections from their debut CD, including "Taken In Sleep" which just gets me everytime! Nothing mind-shattering, but a thoroughly enjoyable set nonetheless.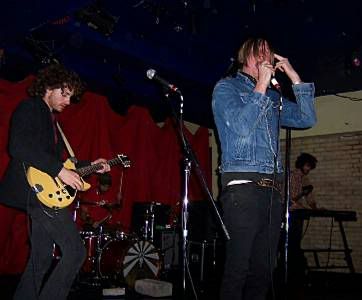 The Fever were basically unknown to me musically. I've read their name in all the music mags and particularly New York-oriented blogs and managed to check out a song sample or two on the 'net. I anticipated a sound that would fit into the [almost-played out, although I still like it]dance-punk genre. The gentlemen have the New York/Strokes-ish look that I guess is in vogue nowadays. And musically, I'd say they're not too far off from the dance-punk genre, albeit with less of an art-punk/'The Rapture' sound and more of a new-wave sound. I kept on thinking they reminded me of a more intense, male-vocal based Blondie. Definitely, more accessible than The Rapture and had The Fever capitalized on the dance-punk sound that was all in vogue last year, well who knows. The Fever's lead vocalist did his best to play up the rock star poses, staring into the eyes of one girl as he sang on one song, and laying his hand on the head of an energetic fan, seemingly drawing upon the fan's energy into his own body. The lead guitarist impressed me with his creative guitar arrangements and the drummer laid down some funky rhythms. The bassist and keyboardist rounded out the sound, providing a solid foundation for the new-wave, dance-punk songs. All in all, good music to sweat a few pints of perspiration to.

[photos from the show]