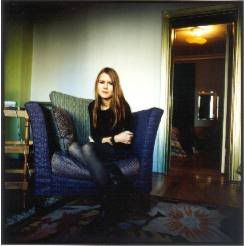 Juliana Hatfield
's touring in December along the northern U.S. east coast and upper midwest, and I would think Toronto'll make the cut for a date sometime early next year, hopefully. Her most recent album
"In Exile Deo"
came out in May of this year. [photo credit(left):
Danny Clinch
]
Just a reminder, but the
Badly Drawn Boy
show originally scheduled for November 26 at the
Phoenix Concert Theatre
will now be held at the
Palais
Royale
. I've never been there. I've read that it used to feature alot of swing greats back in the 1920's and it has the only
sprung, cantilever hardwood floor
in the country. [I heard the floor has a
bounce
to it!] Parking shouldn't be an issue because the lots along Sunnyside Beach are free. This show should be great!
Esthero
's site[on one of the introductory splash pages] is streaming her new song
"We R In Need of a Musical Revolution"
. It's quite a departure from her trip-hop, downtempo roots. It still has
soul
but is slightly more rock-oriented than I would have expected. It's a good song though. Also, according to the news update yesterday, her
"We R In Need of a Musical Revolution"
EP release date has been pushed back indefinitely.