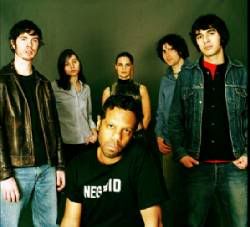 Tiny Mix Tapes
reports that
The Dears
are going on tour in North America in December, starting in San Francisco on December 1st and working it's way eastward, ending in Buffalo on December 18th. And according to The Dears'
message board
, the band'll be hitting the road for a UK tour starting on January 23rd of next year and continuing on into February. ...So maybe between December 18th and January 23rd, they'll be able to squeeze in a Toronto date. We can only hope. [photo credit(left): Aaron Seligman]
controller.controller
have started recording for their new album and will be taking some time off from touring for a couple of months after next month. During the month of December, the band'll be playing some select shows including one in New York City on the 9th, and four more in Ontario, ending a monumental 2004 with a New Year's Eve gig in Toronto at
El Mocambo
! [info from the band's site]
Unfortunately, I missed both of
The Secret
's Toronto gigs[
Sneaky Dees
earlier in the month and their show at
Rancho Relaxo
on Monday night]. I guess it wasn't meant to be. I've been living vicariously through
Dave's photos
of the girls' show in Halifax on November 17, 2004 at
Ginger's Tavern
. [via
Plumtree Yahoo! Group
]
The Trashcan Sinatras
are going on a radio promo and acoustic shows tour in December playing select U.S. cities. The band heads to the UK/Ireland in January 2005, then hopefully go to Japan in February/March. The band's planning to come back to North America soon thereafter, including a stop at
SXSW
(March 16-19). The guys are targeting the UK and Europe music festival circuit for the spring and summer of 2005.
Phew!
And finally, the band's working through the video footage filmed during this year's tour and plans to release a tour dvd in early 2005. [from e-mail update from
www.trashcansinatras.com
]
Toronto psych-pop outfit
The Old Soul
play a CD release at the
Rivoli
in Toronto Friday evening.
Eye
gives the band's debut 4 stars. I caught part of their set
earlier in the month
, and damn, were they impressive considering I only heard 3 or 4 songs. Fans of the
Elephant 6
collective will want to take note.
And finally the
Pixies
@
Arrow Hall
in Mississauga tomorrow! Can't wait!