concert review: Devendra Banhart w/ Six Organs of Admittance [part of the Pop Avant series] @ Music Gallery(Toronto, Ontario), November 12, 2004

Where else would a music fanatic such as myself be this past Friday night in Toronto but the Devendra Banhart show. Originally, I hadn't planned on going because I thought the show was sold out but then I picked up a copy of the Wavelength zine a couple of days before the show and it advertised Devendra's show as being sold out of ADVANCED tickets and tickets would be $15 at the door. Eye advertised the show as still having 'limited rush seating'. With that in mind, on the night of the show, I headed down to the Music Gallery a couple of hours before the show to hopefully buy a ticket at the door. After a little bit of a delay due to misjudging my shortcuts to get to the venue(which I had never been to before), I eventually found the place tucked away in a neighbourhood off John St., just north of Queen St. I was surprised it was actually a church. Well, the short of it is, I was lucky to get a ticket at the door because I overheard the ticket girl saying that they only had 10 more tickets to sell at the door. Woohoo! Although, considering I had really only heard a couple of Devendra's songs, you'd wonder why I'd be so excited. Well, let's just say that my intuition is pretty good about what I think I'll like and won't like, and I've been reading all the fawning praise over Devendra in the music press.

The Music Gallery was an interesting choice of a venue. It's a church first of all. It's not a cathedral or anything but it is rather a small and fairly intimate environment. The pews were few and a little bit back from the stage area so I decided to grab a spot on the wood floor up near the front where some people already congregated. The religious imagery in the church was so subtle that it almost didn't feel like a church at times.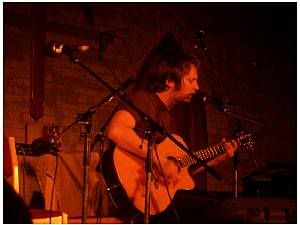 First up was Six Organs of Admittance, who is actually Ben Chasny. With just a guitar and his emotive singing, he sort of reminded me of Jeff Buckley. However, Ben has quite a more classical guitar technique, as he traversed his fret board in bursts of lightning fast speed. There was a folky influence combined with an almost avant-garde quality to his songs. Moments of awkward silence interrupted songs which by the expressions on Ben's face seemed to indicate that these silent passages were planned. I'm not quite sure of his intentions with regards to those moments of silence but in the end there was something very dramatic about hearing a hushness over the crowd so quiet that you could literally hear a pin drop. At other times, Ben's songs were a bit more conventional sounding. I won't necessarily classify him in the singer/songwriter-with-a-guitar category because for Six Organs of Admittance, the instrumentation was as important as the vocals, where for so many singer/songwriters with a guitar, the guitar playing is usually an afterthought.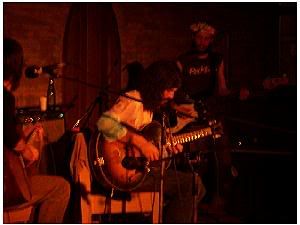 I was half expecting Devendra Banhart to be some sort of hippie, bohemian, poet eccentric after reading he'd been homeless for a time, and some of those publicity shots of his looked totally freaky, at least in my opinion. Ok, so maybe he was a bit of a bohemian eccentric, but in person he was much less weird than I thought he would be. He did encourage the same sort of love-in vibe that you've probably heard from the likes Anthony Keidis and Flea of the Red Hot Chili Peppers. Musically, Devendra and his band touched on a variety of influences, from appalchian folk, roots, church hymns, and reggae. The acoustics in the venue were really good, giving the music a warm rich tone that invaded every nook and cranny of the environment. Although, Devendra started out his set solo, and would later on perform a mini acoustic set later on in the evening, Devendra really succeeded with the full band versions of his songs. Devendra has a great singing style, his every utterance delivered with such a caress of his voice. As well, his bandmates, particularly the gent on guitar who sat directly to his right for most of the evening, displayed some great harmonizing. Devendra and band came back for one encore, performing a song that had a great Doors "Light My Fire" soft-loud dynamic, which towards the end got the audience into a frenzy. I'll have to delve into his catalogue and explore his music more closely but I was really impressed with him that evening. And I'm not the only one who was impressed. Zoilus and the missus were also there. ...and how could you not like Devendra, especially when he said he was impressed with Toronto's Wavelength zine!
.
.
.
...and ending a marathon(phew!) couple of weeks of going to shows, I went to the Lali Puna/Styrofoam/The Go Find show at Lee's Palace yesterday, so I'll hopefully post a review and some pics tomorrow.