concert review: Pixies w/ The Datsuns, The Marble Index @ Arrow Hall(Mississauga, Ontario), November 25, 2004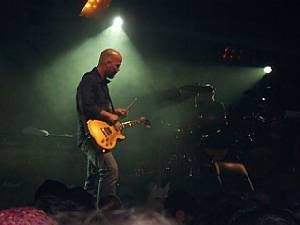 I thought Kool Haus was big. Damn, Arrow Hall is like a freakin' airplane hangar; it's cavernous. I thought the Pixies were one band that I'd never get to see live when they broke up originally in the early 90's, but lucky me got to see them TWICE this year. My friend and I went to Coachella back in May and the Pixies played the first of the two nights, preceding Radiohead's headlining set. I wasn't nearly as close to the stage for that show at that show as I was for the Arrow Hall show, but I enjoyed the Pixies' Coachella set nonetheless. Us lucky Southern Ontarians got the Pixies for two nights, and my friend and I attended the second of the two nights. From my impression(after reading Frank's account of the first night), it seems that the second night may have possibly been the better night[at least I'd like to think so]. Firstly, on the night of the second show, my friend and I escaped relatively unscathed weather-wise; it was a bit cold but otherwise we didn't have any of rain/freezing rain that occurred the night before. Secondly, the second night wasn't sold out and I'd assume that in a venue as large as Arrow Hall, that would have drastically improved the odds of getting a half-decent view of the stage.

My friend and I showed up during The Marble Index's set, during which many people were hanging out at the beer area near the back while a throng of interested fans were near the stage watching The Marble Index's set; my friend and I passed on the beer because of the lineup and decided to watch The Marble Index. The Marble Index are a trio, from Hamilton, Ontario as I was told by my friend. I expected not to like them for whatever reason but actually started to enjoy some of their songs. On some songs, like on their current Edge 102.1-played singled "I Believe", they had a slight garage rock sound. They reminded me of The Strokes on some of their melodic rough-hewn songs and the lead singer had vocals reminiscent of the Afghan Whigs' Greg Dulli. In the end, they weren't as interesting as either of those bands, and maybe the trio dynamic wasn't cutting it for me for the music they do, but otherwise I'd be interested in what they do next.

The Datsuns, with their brand of riff-heavy, guitar-solo, ear-pounding rock music, were on next. I'd already rolled up tissue and put them in my ears during The Marble Index's set and I DEFINITELY needed the ear protection for The Datsuns. They are really LOUD. Combining the best elements of AC DC, Led Zepplin, Motorhead and folkier terrain like Neil Young, I enjoyed them for what they were. Their brand of cock-rock is usually not my thing but the music definitely has a place in my collection when I get tired of listening to Belle and Sebastian for the umpteenth time.

And then the Pixies! The members of the band took the stage and at that point, the previously-subdued crowd burst out into frenzied excitement. The band looked surprisingly refreshed considering the gruelling tour they've been on for the past year. The gentlemen of the band were all donning the newly shaved/bald look, Mr. Frank Black in his dark sunglasses, and Kim Deal was looking healthier, youthful, and cuter than ever(despite the occasional cigarrete). The Pixies ploughed through a spectacular set of songs(with nary a nod to the audience) alternating between their hits("Wave of Mutiliation", "This Monkey's Gone To Heaven", "Here Comes Your Man", etc...) and their punk-rock freakouts. So despite the lack of stage banter, the band seemed very chipper and happy to be playing for us Canadians, and Kim Deal, at least once, made the effort to say 'thanks' to the audience. Frank Black was quite laid back , with a demeanor of coolness, but showed his eccentric, schizophrenic side, especially during his lyrical Spanish ramblings on certain songs. Later on in the show Joey Santiago played out his guitar-god fantasies when he unstrapped his guitar strap and created a feedback loop with his guitar and amp. When the feedback loop was fairly consistent, Mr. Santiago pulled out the drumstick and rhythmically started to tap the guitar strings to wicked effect. This normally could have been taken as self-indulgent meanderings but was actually a rather enjoyable interruption in the set. Take it as the Pixies' version of jamming. I waited the entire evening to hear Kim Deal sing "Gigantic" and was rewarded with the band closing the set with the song. I can't remember a time when I was more disappointed that a band's set had ended, even given the fact that my legs were tired from standing on the hard, concrete floor. However, given the adrenalin-rush of the Pixies' set, I was definitely ready to hear more and so were the rest of the fans. Frank, Joey, Kim and David came together on stage to say their final goodbyes it seemed, staring out into the audience, smiling and absorbing all the good vibes emanating from the audience. In certain respects, it felt like they had played their last show and I was feeling sorta choked up. Maybe it was the last time I'd see them and I wanted an encore. So as the band continued to stand on stage, look into the audience and wave at the fans, we continued to clap, shout and scream. At one point, David Lowering was shaking his wrist, motioning to the audience that he was hurting. The band looked at each other and at David and then with an encouraging look into the audience, motioned to us that they'd play one more song, despite his hurt wrist. ;-) This whole scene could have easily been set up as such from the get-go, but it all seemed sincere, and we were glad to get our encore. From the opening acoustic guitar strains, to Kim Deal's familiar background vocals, the Pixies closed the evening with a stirring rendition of "Where Is My Mind?". Although slightly heavier, and some a little balder, the Pixies proved they still got it. And if the rumours of a new album are true, who said dreams can't come true?

[photos from the show]
Largehearted Boy points us to some Arcade Fire torrents while More Cowbell has some photos(as well as related links to other New York Area Bloggers) of a recent Arcade Fire show in New York City. And More Cowbell says that there'll soon be an Arcade Fire fan site at www.arcadefire.net.


More Cowbell also says that current-Jayhawks front man, Gary Louris, and ex-member, Mark Olson, are reuniting for some duo shows in February and that Golden Smog will also be recording an album(hopefully with Jeff Tweedy) also in February.
chartattack reports that The Organ has lost its bassist Ashley Webber, who has left the band.
And if waiting for Death Cab For Cutie to return to Toronto seems like an eternity, well you can always buy a t-shirt. The DCFC Store has reopened!