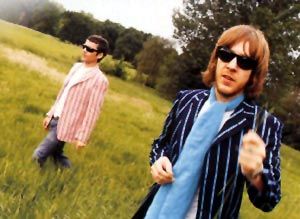 According to
NME
,
Death In Vegas
will be releasing a 2 disc best-of compilation in early 2005, which reminds me that I really should get more acquainted with my Death In Vegas CD's. With influences that straddle the line between electronic music and conventional rock instrumentation, the guys have some haunting tracks like
"Aisha"
and
"Dirge"
off of
"The Contino Sessions"
. Their more recent album
"Scorpio Rising"
never made it to my essential purchases. However, I've always been intrigued by the band who've had some of the most interesting collaborations
ever
with the likes of Iggy Pop,
Dot Allison
, Bobby Gillespie(of Primal Scream) and Liam Gallagher(of Oasis). The new disc will feature 11 tracks on the first CD and a second CD of remixes. Should be interesting to say the least. [photo credit above
http://../
]
A bit of housekeeping. With regards to my previous post, I've now provided the hyperlink below to
Madrid
's website. They are based in Toronto and I highly recommend you check 'em out if you are a fan of
IDM
.
The new issue of
Magnet Magazine
pays tribute to
Elliott Smith
with a cover story. The new issue also spotlights
"20 key albums of the year and 10 others that slipped under the crack"
.
Billboard
reports that
Ivy
will release its new album
"In the Clear"
through
Nettwerk
on March 1, 2005. The new 10-track disc will include guest vocals from
Girls Against Boys
' Scott McCloud dueting with Ivy's Dominique Durand and apparently will meld the electronic textures of its last full-length
"Long Distance"
with the more guitar-oriented sound of the earlier albums.
More Cowbell
has a bittorrent of some
Arcade Fire
x'mas tracks and he points to
jeddeth
who has the 411 on how these tracks came to light.
chromewaves
and
My Mean Magpie
have their best-of 2004 CD lists up.
PopMatters
lists its
TOP 100 ALBUMS OF 2004
.
Stylus
lists its
TOP TEN BEST MOVIES OF 2004
as well as some individual staff top ten lists.
Metric
are to tour select cities in January(including a date on January 17th at
The Mod Club Theatre
) as well as start recording for the second full-length. [from
Soul Shine Magazine
]
A feature interview with
Julie Doiron
appears over at
Splendid
.
The Mcenroe Show
(on
CNBC
, weekdays at 10 pm and 1 am on cable television in the Greater Toronto Area) will air
Luna
's performance of
"Malibu Love Nest"
tonight, Tuesday December 14th
Wednesday December 15th. [from
Luna
's official site]
The dates for the 2005
Noise Pop Festival
in San Francisco have been set for
February 22-27
and the opening night will feature
Ted Leo / The Pharmacists
. The 2005
Noise Pop Festival
will feature such artists[
and if you think I'll be hyperlinking all of these you must be insane
] as Joanna Newsom, Rogue Wave, Amon Tobin, Mates of State, Portastatic, Comets on Fire, The Velvet Teen, Bettie Serveert, Les Georges Lenigrad, Nada Surf, High on Fire, Nicolai Dunger, The Fucking Champs and Polyphonic Spree. It would be great just to see and hear all those amazing artists but I also hear that San Francisco is a great city to visit.
The Zoobombs
are coming back to Canada in March 2005 during
Canadian Music Week
, although from what I understand from
Dan Burke's post at 20hz
, The Zoobombs appearance will not be part of the official
Canadian Music Week
schedule. Similar to Mr. Burke's organization of the gig earlier this year featuring
Death From Above
, Tangiers,
controller.controller
,
Uncut
, and
Magneta Lane
at
The Comfort Zone
in Toronto during
NXNE
but which was not officially part of it, The Zoobombs show during next year's
Canadian Music Week
promises to be pure rock n' roll.
Magneta Lane
's video for
"The Constant Lover"
will be released in January. New tour dates also to follow. Head over to the band's site to hear the streaming version of
"The Constant Lover"
.