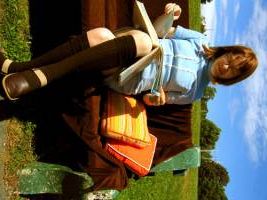 While doing a Google search for info on City Field, I came across the just-launched Just Friends Records site. The independent label is based out of Halifax, Nova Scotia and features the following artists: The Sweet Tenders(rock n' roll), Brent Randall and His Pinecones(psychedelic, keyboard-driven easy pop/rock), The Maughams(doo-wop pop rock), The Tragedies(Flaming Lips-inspired pop/rock) and Laura Peek and the Winning Hearts(indie-pop). So you ask what's the City Field connection? Well, City Fields' drummer and bassist, Dave Eweison and Brent Randall respectively, also help run Just Friends Records. Aside from Just Friends Records and City Field duties, Dave and Brent also play in The Sweet Tenders, Laura Peek and the Winning Hearts, and Brent Randall and His Pinecones [well, duh!]. There's some good indie music coming out of Just Friends Records and the cross-polination of band members reminds me of the good ol' Murderecords days. I'm gonna be keeping an ear on 'em this coming year, if not in anticipation of the release of the City Field album which I'd assume they'll have a hand in. And yet another example of why Canadian music rules![photo from http://../]
So while many of us are caught up in the post-Christmas, Boxing Day Week buzz, it's really easy to overlook that on the other side of the world there's been a tragedy of epic proportions. The Earthquake/Tsunami in Asia has been so devastating to the affected region(Sri Lanka, Thailand, Malayasia), that with all the things I'd like to complain of in my own life(and we won't get into those), I'm just counting my blessings at the moment. So if deciding what to do on New Year's Eve was the most important thing on your to-do list this week, how 'bout making a donation to help out those in disaster-stricken Asia. I was watching Pulse24 today and they recommended making a donation to The Canadian Red Cross or World Vision. Mint Records[see the recent news update] has taken some time to post some links to sites who are receiving donations for those affected by the tsunami and they've also posted links to sites to make donations regarding problems closer to home(homelessness and shelters for battered women). And while you're over at Mint Records check out more top 10 music lists from The Smugglers' Grant Lawrence, young and sexy's Brent, and John Guliak, as well as The Buttless Chaps' Morgan's top ten soups?!
Stylus posts its top 40 list of the Worst Albums of 2004. Har, de har, har.
It was a good Christmas for me all around, if not for family, food and frolic. Ok maybe not frolic...more like relaxation. And I did get some cool things including a coffee-maker(yes, I love my coffee!), as well as the Elf DVD, Pistol Opera DVD and The White Stripes' "Under The Blackpool Lights" live DVD. Boxing Day netted me used copies of Pulp's "Countdown 1992-1983" , The Be Good Tanyas' "Chinatown", Northern State's "All City", Petra Haden & Bill Frisell 's colloborative effort CD, and The Marble Index's debut CD. My cd collection's getting out of control, to say the least.