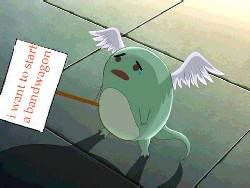 Foxymoron makes some interesting commentary about the role of music critics and the effect on their readers' music choices. In particular, she takes the example of The Arcade Fire and their album "Funeral" which has been granted an extraordinary amount of praise by the music media. I'm inclined to agree that music publications(both print and Internet) such as Magnet, Exclaim, Pitchfork and PopMatters, have an undeniable influence on my music purchases. As a consumer with only limited resources(time, money, etc...), I've come to rely and trust certain music publications to help me choose new music to research, seek out and eventually purchase. So in the end maybe it seems like everyone's jumping on The Arcade Fire bandwagon(or even the Feist bandwagon) but the undeniable fact is that the word of mouth on great albums will spread like wildfire. Go to Foxymoron's site and voice your 2 cents on the issue. Or as Coffee Talk Lady might say, "discuss". [photo from http://../]
Ben Rayner of The Toronto Star lists his favourite concerts of 2004.
I'm already starting to miss Largehearted Boy's old site design. Agree or disagree? And what of the LHB logo we've all come to love?