concert review: Ted Leo / The Pharmacists w/ The Junction, The Meligrove Band, Matt Pond PA @ The Mod Club Theatre(Toronto, Ontario), December 5, 2004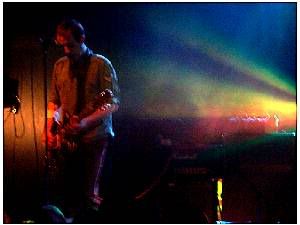 For an all-ages show, on a Sunday night, with 4 bands, I was surprised I wasn't more exhausted at the end of all. The transition from band to band was fairly smooth and the wait between bands was for once not so excrutiatingly long. By my estimates, the venue was 75 % full at its peak during Ted Leo's set which meant that for most of the show, my friend and I could watch the bands from various vantage points. My friend and I walked into the club at the beginning of Matt Pond PA's set. We watched their show from a central vantage point on the floor. By far they were my favourite of the three opening acts. With the added dimension of a cello, the band played plaintive and slightly quirky indie pop that sometimes reminded me of the Arcade Fire on their more upbeat numbers. Very addictive melodies overall, so much so that I purchased their recent CD "Emblems" at the show. Interesting fact: They seem to have some sort of Canadian fixation from the looks of their merchandise(like an elk on their current CD "Emblems" and the maple(?) leaves that appear on their buttons). What's up with that?

The Meligrove Band were up next. So these guys are from my hometown of Mississauga and its surprising that I've never gotten around to seeing this band live. Maybe its my unwitting reluctance to accept that any good band could come out of Mississauga. I have their most recent CD "Let It Grow" released on Endearing Records but I haven't really listened to it much, although from what I could ascertain, it was heavily influenced on Brian Wilson and The Beach Boys; not the surf sound but rather "Pet Sounds"-era Brian Wilson. Alot of ba-ba-ba's, handclaps, bouncy pop rhythms. Their music's good, and I love that sort of pop music, but nothing on their CD[at least from first listen] really grabbed me. So it was surprising that the boys[and yes they do look young although I believe they're all in their early 20's] were in full rock mode. The pop melodies were still there but they made up their mind that they were there to rock. Their lead singer, with his dark-rimmed glasses, came off like a slacker version of a young Elvis Costello. The band alternated between scorching rhythm n' blues boogie instrumentals and late 70's inspired power-pop/punk. Their were flourishes of inspired trumpet and keyboards which gave the music added dimension. Brownie points to the drummer for just being totally gonzo such as when he his bass drum pedal broke, at which point he took a couple of minutes to fix, then came back and counted in the next song in some sort of gibberish language; later on he jumped into the audience and he was running around trying to psyche people up, before ending back on stage with his t-shirt off. Meligrove, you've made Mississauga proud.

By this point, my friend and I ended up on the right side of the club near the stage, in the 19+ drinking area. The Junction were up next and unfortunately didn't make any impression on me[and no it wasn't the alcohol]. They're another local band who I believe are from Brampton, Ontario. I'm all for bands with a variety of influences but to put it simply, there was an incongruence to their sound which was off-putting. It's like on one song they were Radiohead, the next they were Dave Matthews, and on yet another song they were R. Kelly. The r'n'b influence was particurlarly prominent in their music. I usually like my r'n'b straight up(Ivana Santilli, Esthero) and The Junction's rock/r'n'b combination didn't do anything for me. They had some interesting songs and they're good musicians but they're just not my cup of tea. Although, by the response of some people in the crowd, I could tell some were fans of the band.

After The Junction's set, my friend and I stuck around in the 19+ drinking area and were fortunate to stand right up to the metal fence that cordoned off the area, with an unobstructed view of the stage. Unfortunately for myself Ted Leo positioned his mic stand on the left side of the stage, which was away from where I was standing; it was only bad in the sense that the distance made photo-taking difficult[not to mention the damn smoke machine, which even Ted asked if "they could cool it on the smoke machine, or at least get him a bourbon; the latter was provided], but otherwise pretty good view. In my opinion he kind of ruined an opportunity for momentum in his set by playing "Where Have All The Rude Boys Gone?" and "Me and Mia" near the beginning of the set. Ted was his usual spazz-ic self on stage as he alternated between his passionate vocal stylings and his fierce guitar playing. The drummer was hidden from my view due to the position of his symbol stand but from what I could tell he was banging away energetically. So it kind of a drag to see the bassist so mellow, but so be it. The majority of the songs from what I could tell were from "Hearts of Oak" and "Shake The Streets", in addition to Ted's cover of Splitz Enz' "Six Months in a Leaky Boat"[off of Ted Leo's "Tell Balgeary, Balgury Is Dead"] as well as a cover of Rush's "The Spirit of Radio"[which I only knew about after my friend told me]. Ted made some subtle references to the election when he mentioned something about 'a bad November' but resisted any sort of political sloganeering. His first two shows in Toronto earlier in the year, and both at the Horseshoe Tavern, were by far better shows. I'm disappointed that he didn't play "Under The Edge" or "The Crane Takes Flight". This show at The Mod Club was enjoyable enough but it definitely lacked the intensity of the other two shows. Ted's incapable of putting on a bad show in my opinion, but I'm sure he'll blow the roof off the next time. Preferably, at Lee's Palace.

ps. photos to come in the future, once I sort out whether I'll be upgrading my Photobucket account since I am just about at my quota with my free account.
Stylus presents its Top 40 Singles of 2004 while PopMatters gives its Best Music of 2004. SHOT also gives his top 20 CD's of 2004.
Download some PDF files of UK zine Blank Stares and Cricket Claps including an issue featuring Greg Dulli in their latest issue. [from Summer's Kiss]