concert review: Stars w/ Chad Vangaalen @ The Mod Club Theatre (Toronto, Ontario), December 20, 2004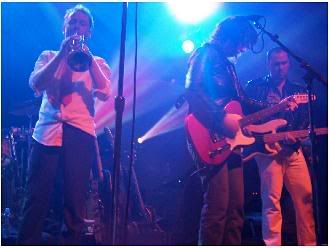 I could kill my friend for making me walk out of Stars' set at the El Mocambo during Canadian Music Week in early 2003. Stars were only starting to make a name for themself at the time and its exciting to see how far they've come since then. So did I luck out and attend the BETTER of the two Stars' shows at The Mod Club? chromewaves, Mishie, pop (all love) and (another)Brian all went to the Saturday night show and had a good time as I've read. At least according to Foxymoron and SHOT who both went to both the Saturday and Sunday night Stars' shows, the Sunday night ALL-AGES show surprisingly turned out to be the better of the two. Yes, Sunday night was great, awesome, lovely and I'm glad I went that night. The band had a lovely string section who sounded wonderful but unfortunately my view of them was blocked by the keyboards. Otherwise I had a great view of the band almost right up front. When Torquil pulled up that little girl on stage(who I coincidentally had let her and her father go to the front of the stage in front of me so that she could get a better view; yes how nice of me) and announced that "This is rock n' roll", that was the cutest thing ever.

I must say that Torquil just oozed charisma. He has that sort of dry voice that's smooth, dapper, cool all at the same time. On the other side, Amy's gorgeous girl-ish vocals were very beguiling. Instrumentally, the band sounded great, easily making the transition between their indie/chamber pop tunes like "Calendar Girl" and "Heart" and their more rockin' songs like "Ageless Beauty". On "Elevator Love Letter", the band turned up the guitars a tad and the electro-pop influence was kind of buried a bit, but nonetheless the melodies on the song shone through. Evan on bass was utterly cool wearing that chapeau of his and his basslines were really distinct and audible. Chris' keyboards were lovely and nice, albeit a little harsh sounding. (Did anyone think that the keyboard sound was mixed a little too high in the mix? Or maybe it's because I was standing right in front of the keyboards.) During the encore, "Death To Death" ventured into jammy territory as drummer Pat McGee let loose with some improvised rhythms. Oh, and the band also had an additional guitarist with them who filled out the sound quite nicely. Someone in the audience yelled out at the start of the encore for them to play their cover of "This Charming Man" but unfortunately the band didn't play it. Torquil did say that The Smiths were the "best fuckin' band ever", however. (ok, I might have imagined him saying "fuckin", but then maybe not.)

Ultimately, I most enjoyed seeing the crushworthy Amy Millan bust out those dance moves and having a fun time on stage. Whether Sunday night was the better of the two shows is a matter of opinion, but otherwise it was a good time all around.

Opener Chad Vangaalen got things going at the beginning, playing as part of a trio, with other members on drums and bass guitar. Chad, on guitar, vocals and harmonica, along with his band, played a set of stripped down indie rock tunes that reminded me of Unrest and the Pixies. There were some nice melodies and the drummer frequently achieved a groove which kept the songs from getting boring. In certain respects, their sound's so 1995. I don't think the crowd was necessarily into 'em as I could tell by the chatter but I'm sure the band would go over well with the indie-rock fans in a smaller venue like the Horseshoe.

[photos from the show]
Aaron at pop (all love) has posted the final tally of the poll he took amongst some local music bloggers(myself included) and journalists of our Top 5 Canadian albums of 2004. Yes, I was the person who included City Field's "Authentic City" E.P. in my top 5, although in retrospect I might have knocked it down a few notches had I bought Stars' "Set Yourself On Fire", The Arcade Fire's "Funeral" and Junior Boys' "Last Exit" earlier. Still, City Field are terrific and they should hopefully be releasing an album in the new year. City Field is the new band formed by Matt Murphy of Super Friendz and Flashing Lights fame. So if anyone's interested, I'll be posting my submission to Aaron's poll tomorrow hopefully.
If you can't be bothered with torrents(and it might just be as well since Chromewaves says torrent sites are dropping like flies), Largehearted Boy has come through again with a link to mp3's of The Arcade Fire's CBC Radio 3 session from October 2, 2004.

There's a new Arcade Fire message board also. [from broken telephone]
popMatters begins its first of two instalments on music shopping[the second instalment follows this Wednesday]. First there was the 'death' of vinyl and cassette tapes. Now with the advent of the iPod, the CD could succumb to the same demise. I think portable MP3 devices as well as the CD both have their own niche of the music-buying market. I'm still a firm believer of the CD. It starts and it finishes and it's interesting to hear songs within the context of the album. Don't get me wrong; I'd like to get an iPod primarily for the convenience factor of not having to lug around a tonne of CD's. However, I prefer the tangible qualities of the CD such as being able to read the liner notes as well being able to appreciate the artwork of the sleeve.
Shot reports that PJ Harvey has quit playing live shows. Huh?! Soul Shine Magazine and chartattack are reporting the same thing. Say it ain't so! At least I got to see PJ Harvey live once(at The Phoenix in Toronto in October). And yes, that was my favourite show of 2004 by far.
Pony Up! news! The Montreal gals just came back home from touring and are taking a rest before going on tour again in the new year. Their e.p. will be coming out on January 25, 2005.
More and more Top 10 albums of 2004 lists over at 20hz.
I've practically done all my x'mas shopping, with several days to spare. I fuckin' rule.