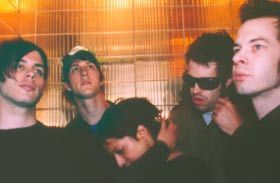 controller.controller
's
"History"
E.P. will be released in the U.K. on
Sink And Stove Records
sometime in February 2005. They'll also be opening for
Death From Above 1979
&
Kaito
in the U.K. between January 31st and February 9. [from
20 hz
. The same info's also over at
chartattack
]...in related news, go over to
CJLO
for photos of the band during the session they did for
HOOKED on SONICS
.
Thankfully, this has never happened to me, and hopefully NEVER will but people over at
20 hz
recount personal experiences of
being mugged in Toronto
...suddenly, my solo concert-going in Toronto seems a little more dangerous.
And news straight outta the 90's Canadian indie rock scene[again from
20hz
],
The Wooden Stars
will be playing the
Horseshoe Tavern
on January 20, 2005, with
Sea Snakes
as openers.
Endearing Records
' artists
Julie Doiron
(on vocals) and
Radiogram
(as backing band) will appear on
CBC Radio 2
this Saturday December 11th for a live studio session. And the session is presented by
CBC Radio 3
(?) And while you're over at
Endearing Records
, why not take advantage of their holiday special where you can purchase any 3
International Pop Exchange(
IPX) releases for $20 CDN or any 5 of the series for $30.00.
The Raveonettes
are set to release their sophmore album in early 2005, with a
"wish list of guest musicians, including Maureen 'Moe' Tucker of the Velvet Underground on drums; Martin Rev of Suicide on keyboards; and Ronnie Spector of the Ronettes adding the 'woah-oh-oh's' in the background of "Ode to L.A."
[from
filter magazine
]
The Online Film Critics Society
's
TOP 100 OVERLOOKED FILMS OF THE 90's
. [from
Shift.com
]
According to
estheronline
, 1500 copies of Esthero's new E.P.
"We R In Need of a Musical Revolution"
made it to stores yesterday, although most of the copies of the E.P. were recalled due to a packaging error. The next batch will go to stores on January 11, 2005. For now go listen to a streaming version of
"We R In Need of a Musical Revolution"
. And
quick bursts of emotional discourse
gives a song-by-song review of the new E.P.
Some
Broken Social Scene
goodies: 1)
streaming video
of a live acoustic performance @
Kataweb
(an Italian online community) [link from
broken telephone
] 2)
torrent
of the band on Spanish TV [again link from
broken telephone
]