movie review: House of Flying Daggers [2004]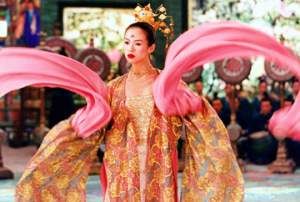 This film snuck up on me. I didn't even know about it until I read an article about Zhang Zhiyi in NOW a couple of weeks ago so I went to see House of Flying Daggers with some friends yesterday. The obvious similarities to Crouching Tiger, Hidden Dragon and Hero are apparent. It's visually breathtaking in its cinematography, especially the panoramic views of the landscapes. The transfer to film seemed almost unusually sharp and distinct which made everything even more pleasant to watch. Storywise, its a little more direct than either Crouching Tiger, Hidden Dragon or Hero, forgoing the grander scale of either of those movies for a more simple, personal story. House of Flying Daggers was a little closer visually to Crouching Tiger and Hidden Dragon, with a natural yet beautiful look that forgoed the more expressionistic visual tone of Hero. Zhang Ziyi was so spectacularly beautiful in the film and she showed a more subtle touch to her acting than in previous roles that was really nice to watch. She plays a blind showgirl and at the beginning of the film we were treated to a spectacular exhibition of her dance/martial arts moves. There were enough martial arts scenes to keep pace with the film. Interestingly, I think it was the underlying simplicity of the story that kept the action sequences from becoming boring. In retrospect, I think this was probably why I didn't enjoy Hero as much; Hero was a little more bogged down in pedantic use of plot twists that complicated matters and grew slightly tiresome. There's some cliched moments at the end but otherwise it was a really enjoyable film to watch. [photo from http://../]
With daily music reviews on hiatus until January 3, PopMatters offers some more year-end lists from some of its editors and music writers to tide you over. You asked for more lists, well you got 'em.
In the wake of the Earthquake/Tsunami disaster in Asia, Torontoist has compiled a list of Canadian-related news stories and links, as well as agencies where donations can be made.
My Indie World has been posting his Top 37 albums of 2004 in instalments and up to now has posted parts one and two. Fans of girl-pop and The O.C. should take note. [So I don't watch The O.C., but they have a wicked soundtrack!]
Largehearted Boy points towards a torrent of a Sloan performance at Muchmusic from 1998.