movie review: Blade:Trinity [2004]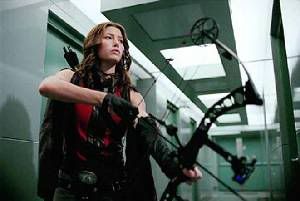 Went to go see Blade:Trinity on Tuesday night with a friend. It's more than mildly entertaining. I enjoyed the special effects, the fighting sequences, all the gadgets, and the general look of the film. Jessica Biel is tasty playing Wilder's[played by Kris Kristofferson] daughter turned vampire hunter. She's joined by a group of like-minded individuals including Ryan Reynolds who plays a character who once was a vampire but was changed back, and Natasha Lyonne(of American Pie fame) who plays a blind character with a knack for research and high-tech inventions. They've formed a covert group of vampire hunters called Nightstalkers. During the course of the film, Blade meets the group, and through a reluctant alliance, they pool their resources to fight a common enemy. Parker Posey is delicious as a vampire honcho, with a sense of style that's part fashion model, but all bitch. Ryan Reynolds reminded me of Matthew Perry 's role on Friends, always the wise-cracker, with a barrage of one-liners even when he was getting his ass kicked. If anything I was a little disappointed with Jessica Biel's character. Considering her relation to Wilder, the opportunity to develop her character wasn't really seized. She was tough and sexy, but otherwise there were few instances of when she really showed her vulnerability. As par for the course, Wesley Snipes played the stoic Blade with all the style and athleticism we've come to know from him. The Nightstalker group were a fairly young group of individuals which in my mind kind of gave off a Scooby-gang(to borrow a term from Buffy The Vampire Slayer television series) vibe. Considering the grandeur of the villain, this installment of Blade was definitely a lost opportunity to create an epic sequel, sort of like what Matrix Revolutions was to the Matrix Trilogy. Blade:Trinity is pretty much all style, fast paced, and will appeal to your short-term attention span, but it has little substance. The first two Blade films are definitely the better of the series. It's a shame that the story wasn't better developed because I genuinely enjoyed the main actors' performances. I think there'll be another Blade installment so I hope they get it right next time.[photo above from http://../]
The Bontempi website that I mentioned yesterday now seems to be working. Check out the sound samples. Quite a bit different from the sunny indiepop/rock of Plumtree, but interesting nonetheless. You can order their CD-EP "What Keeps Us Awake" for $10 CDN. Go to the site for ordering details.
Sarah of Torontoist comments on the Toronto International Film Festival's top 10 Canadian movies of 2004...of which I saw a total of zero.
The Stereolab site reports that Monade[side project of Stereolab's Laetitia Sadler] will release a new album called "A Few Steps More" in the first half of March 2005. The tracklisting is as follows:

Wash and dance : A few steps more : La salle des pas perdus : Das kind : 2 portes, 7 fenetres : Dittysweep : Becoming : Pas toujours; encore : Sensible et extensible : Dittyah : Paradoxale : There are things

Live dates will follow.
And a bunch of Matador Records-related news. ...Nashville-born artist Laura Cantrell has signed to Matador Records. ...On March 22nd of 2005, a specially priced double CD and limited edition triple CD version career retrospective of Yo La Tengo will be released[check out tracklisting at the label site.] A DVD compilation of the band will be released sometime in 2005. ...Matador Records is having a contest to commemorate their 15th anniversary; they're asking people to submit pictures of themselves at the tender age of 15. 15 winners will win 15 in-print releases of their choice from the Matador Records catalogue. ...Finally, a variety of Matador Records employees and artists list their top-10's in a variety of categories.