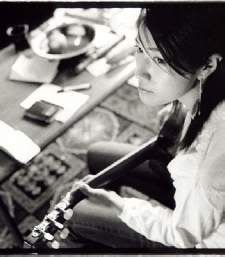 Am I missing the point of Canadian Music Week, when the only acts of the one's invited drawing my attention so far(aside from some of the familiar Canadian artists) are the foreign artists? I already spoke about my excitement for the possibility of seeing Tahiti 80. Today, I was checking out web sites for Bonnie Pink(from Tokyo, Japan) and Sebastian Tellier(from Paris, France) in particular.

I heard of Bonnie Pink[for some info in English check the BP fanlisting] a couple of years back when I was getting into jpop bands like Puffy Amiyumi and The Brilliant Green. I never got around to Bonnie Pink's music however. Check the [defunct]Evil and Flowers site for an mp3 of her song "Do You Crash?". (If the site's exceeded its transfer quota, check back later.) The song combines Japanese and English lyrics, starting out softly with some nice acoustic guitar, then builds slowly towards a semi-orchestral conclusion. The vocals bypass the stereotypical cutesy Japanese female vocals for female vocals which were surprisingly stronger than I expected. Good song that I'd like to check out more of. The editorial review of her 1999 debut CD "Blue Jam" over at Amazon.ca makes it all the more tempting. [photo from Bonnie Pink official website]

Sebastian Tellier is the first signing to Air's Record Makers label. I listened to a couple of streaming tracks at his site which piqued my interest in his music. His music seems to maintain the ambient, cinematic quality of Air's music but with less emphasis on beats. Check out "Universe". Really quite moving in my opinion, but I'm wondering whether a whole set of this could be too sedate.
In other news, former Afghan Whigs/current Twilight Singers frontman Greg Dulli has yet another band to get his ya-ya's out. This times it's in the form of Uptown Lights which comprises past and present members of The Twilight Singers. And as thetwilightsingers.com states:

Formed primarily to throw house parties in their hometown while they work on their respective individual projects, Uptown Lights revisits the days of dressing uptown and throwing downtown. Armed with a setlist featuring the songs of their heroes, like O.V. Wright, Joe Tex, the Temptations, Aretha Franklin, Otis Redding and many, many more, this show is not to be missed...

The lineup is as follows: Greg Dulli/Vocals, Scott Ford/Bass, Mathias Schneeberger/Keys, Jon Skibic/Guitar, and Brian Young/Drums. The band'll play their first show on February 19th at Spaceland in Silverlake, CA. The band has a myspace page. The band answers some of the questions that inquiring minds want to know such as whether there'll be a tour(response: probably not but possibly some sporadic shows), or whether there will be any live recordings(response: to quote them, "You bet your ass there will be").

I'd love to see the band come to Toronto, but that seems like a longshot. Seeing as I missed the opportunity to see The Afghan Whigs live, maybe The Twilight Singers will come to Toronto and Mr. Dulli can throw some Uptown Lights and/or Afghan Whigs selections into the set list. [info from Summer's Kiss, via thetwilightsingers.com]