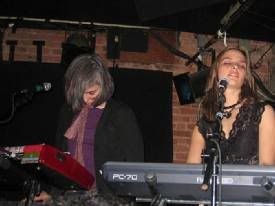 Just came back from the
Neko Case
and
The Sadies
show(featuring
Kelly Hogan
). It was my first time seeing her live and it was a good time all around. I'll try to post some pictures and a review tomorrow.
brooklynvegan
's posts have been kicking some major ass recently.
As he points out
, the New York City blogosphere was out in full force for
The Dears
show @
Mercury
this past Saturday and he's conveniently encapsulated in one post links to other blogs of persons who were also at the show. That said, I'm disappointed in the (mostly)negative reviews of The Dears performance that night that the New York City bloggers have given the band. GIVE THEM A CHANCE, NEW YORK! I love The Dears. They've put on some of the best live performances I've ever seen. And yes, I think they deserve as much adulation as you've given Canada's
The Arcade Fire
. [original photo left from
Daily Refill
]
Just a reminder that
The Arcade Fire
will be appearing on
Morning Becomes Eclectic
, tomorrow January 17 at 11:15am(which would be 2:15 pm EST). Of course, you should be able to check this out online at
KCRW
. [info from
Neighbourhood #1
message board]
So I gave in yesterday and finally watched
"Daredevil"
. I wanted to watch it before I go see
"Elektra"
. And whaddya know...
"Daredevil"
didn't suck. It's not perfect but it entertains, looks fairly good and maintains a suitable dark atmosphere(a la
"Batman"
) that gave the film some presence. My main criticism of the film(had I seen it when it originally came out) would have been the lack of character development with
Elektra
(played by
Jennifer Garner
). I guess that problem's solved now that she has her own movie. So why is it that when I watch the
trailers
for
"Elektra"
, there's a chilling similarity to
"Kill Bill"
? Coincidence? I think not. Okay, maybe it is. Who cares anyway. It's Jennifer Garner!