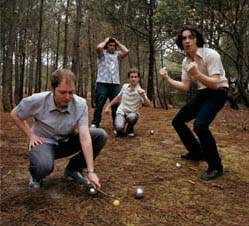 I was reading the
Canadian Music Week
site yesterday and was excited to see that France's pop revisionists
Tahiti 80
were invited to play this year's
CMW
festival. The band's official web site makes no mention of whether they've confirmed to play the festival but I'm so hoping they agree to come to Canada. (I posted a message on their message board yesterday, asking whether they've decided to play
CMW
and I hope they say yes.) Their debut CD
"Puzzle"
released on
Minty Fresh
in 2000 was a spectacular pop record full of sophisticated pop melodies, winsome vocals, airy guitars, and spacey keyboards, with flourishes of disco rhythms,
Bacharach
-esque horns, and
Beach Boys
-ish background vocals. Succinctly, a pop music lover's dream. I was late in catching onto the band's music when they played in Toronto at
Lee's Palace
in 2000. [Read a review of that show @
chartattack
] I don't believe Tahiti 80 has played Toronto ever since, even though the band's had a couple of releases including 2002's
"Wallpaper for the Soul"
and 2004's
"Piece of Sunshine"
which contained eight new tracks from the
"Wallpaper"
sessions plus a DVD of promo videos. Shame on me, but I haven't bought either, mostly due to my reluctance to pay the outrageous import prices. Maybe I'll remedy this soon. According to the most recent news update at the band's site, their third album
"Fosbury"
will come out late-February in Japan, in Europe on March 21, and then in the States shortly afterwards. For the uninitiated, download an mp3 of
"Get Yourself Together"
(from 2002's
"Wallpaper for the Soul"
) or watch the music video for
"Heartbeat"
[streaming music videos are also available at the band's web site under "Media"]. In the meantime, I'm keeping my fingers crossed that Tahiti 80 will come back to Toronto. [photo from
http://../
]
Speaking of
Canadian Music Week
(which runs from March 2-5), the
CMW
site also lists
The Zoobombs
as being invited to perform at this year's festival.
Someone
at the
Zoobombs Yahoo Group
says that The Zoobombs will be playing in Toronto tentatively on March 3, 4, and 5. Japanese blog,
memo from Bomb Freaks
, which linked to an
older post of mine
on the subject also seems to indicate that they will be playing the festival.