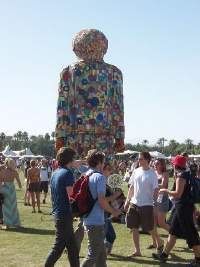 Let the madness begin! Yesterday
Goldenvoice.com
sent out an e-mail(which I must have subscribed to at one point last year) that the
Coachella
presale has now begun. The presale will last until Sunday, January 23rd at 9 PM PST. Given the brutal heat, pain-in-the neck parking situation, expensive concessions, and hard-to-find accommodations[well, this last one's sort of my fault since I left it to the last minute] when my friend and I went to
Coachella
in 2004, I'd still want to do it again. There was something about being a Canadian on California soil which made it quite a transcendental experience...ok, maybe it was just the heat. Although it did help also that I got to see
The Pixies
,
Radiohead
,
The Cure
,
Belle and Sebastian
,
Death Cab For Cutie
,
Broken Social Scene
and others all in one weekend. I haven't made up my mind about going this year but the full line up will be announced on Monday January 31st. For now though,
Burned By The Sun
's doing a good job of
making a list of rumoured/confirmed Coachella participants
. The dates of this year's
Coachella
are Saturday April 30th and Sunday May 1st. The photo here is one of mine from last year's festival. Ain't it pretty?