concert review
:
Neko Case
and
The Sadies
(featuring
Kelly Hogan
) w/
Johnny Dowd
,
The Phoenix Concert Theatre
(Toronto, Ontario), January 16, 2005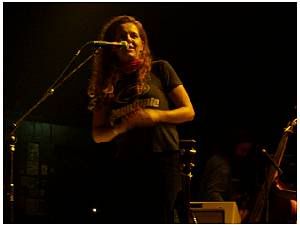 I promised myself I'd be more punctual with posting reviews of shows I've been to and I'll be damned if I don't post something about the
Neko Case
show which happened this past Sunday night. Didn't make it for opener
Johnny Dowd
. It was all about Neko for me. Since it was the first time I'd be seeing her live, I was pretty excited about the whole thing. Fortunately, even with arriving at
The Phoenix
only about 15 minutes before Neko's set, I was still able to grab a nice spot almost right up near the stage, at the very right. Decent view, although I would have preferred something more central. (Hey
Frank
, I saw you got a decent spot up at the front as usual. Nice pics, btw.) Neko was accompanied with Toronto hometown boys,
The Sadies
, with the talented
Kelly Hogan
on background vocals.
With
Neil Young
's
"Tonight's the Night"
preceding Neko and the band making their entrance onto the stage, I was really hoping for a barn-burner of a show, but was left somewhat disappointed. I wouldn't necessarily put the blame on Neko and her band. They played a delectable selection of teary-eyed country ballads and more raucous country rock tunes(with some tasty guitar work from the incomparable Dallas Good). Kelly Hogan provided some lovely 'oohs' and 'aahs' and background vocals that combined quite nicely with Neko's beautiful vocals. My only complaint of the night was that the Sunday night crowd was just too mellow(pot-smoking, momma-calling, chickee at the front of the stage excepted). Otherwise, I was enamoured with Neko that night. With her fiery red hair(almost crimson like Dallas Good's suit), Neko enchanted the audience with lovely ballads like on
"Make Your Bed"
which ended on a series of 'ooohs' that gave me goosebumps. Travis Good led the band into a rousing rendition of
The Band
's
"Evangeline"
. Neko charmed the audience between songs as her spontaneous stage banter led into school-girl like rambling and still managed to make us laugh. So there were no tales of drunken road trips, groupies and such. Just funny stories of Kelly Hogan's dog, Neko getting The Sadies to perform
"Happy Birthday"
for birthday girl Kelly Hogan (which The Sadies gladly obliged), and alot of shout-outs to friends in Toronto for putting up with her and giving her a place to practice. My impression of Neko that night was that she might look like the kind of girl you're mom might not approve of, but once you get to know her, she's just really NICE. So NICE in fact, I would've sworn she was Canadian.
[
photos
]