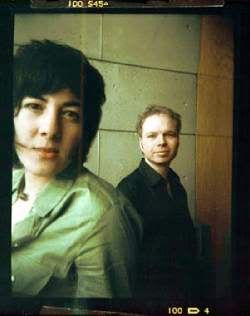 Picked up the new issue of
Exclaim!
[February 2005] today which features a cover photo of Mr.
Bright Eyes
Conor Oberst. Ahem. That aside, the new issue is a veritable source of good news, including the following:
->
Damon and Naomi
along with
Raising The Fawn
,
A Northern Chorus
and
Sleeper Set Sail
will be playing the
Sonic Unyon
,
Canadian Music Week
showcase @
The El Mocambo
in Toronto on Thursday March 3rd. Damon and Naomi will also be touring in Canada in April though the official site hasn't confirmed dates yet. [photo left from
http://../
]
->
Stars
will take part in the 13th Anniversary edition of the
Exclaim!
Cross-Canada Concert Series
, which'll feature stops in Vancouver, Calgary, Edmonton, Saskatoon, Winnipeg, Toronto, Ottawa, and Montreal. Yay! More bands to be announced.
-> And as
chromewaves
already posted,
The Weakerthans
and
The Constantines
will be touring Canada beginning on the east coast the last week of March and touring through April towards the west coast, ending up in Whitehorse(!) on May 1st. Toronto fans will have two dates(and specifically three opportunites according to
chromewaves
, because of a matinee performance on one day), April 8th and 9th at
Lee's Palace
, to catch the tour which has been dubbed
"Rolling Tundra Revue 2005"
.
Yet another
Arcade Fire
torrent
, this time of their show in Austin, Texas on January 21, 2005. [link from
Largehearted Boy
]
A couple of tasty
Death Cab For Cutie
mp3 downloads over at
Bradley's Almanac
, including a cover of
Julian Cope
's
"World Shut Your Mouth"
and the original (and fuller) studio version of
"Title And Registration"
. Yowza!
chartattack
's reporting that
The New Pornographer
's follow up to
"The Electric Version"
is currently in the works and should wrap up by mid-March, which'll likely mean a summer or early fall release.
Matador Records
[scroll down] has a letter from Mr. Carl Newman stating all the facts.
melodynelson
, by way of
productshopnyc
, by way of
Ambitious-Outsiders
are confirming that
Nine Inch Nails
,
Coldplay
,
New Order
,
The Killers
,
Gang Of Four
,
Doves
,
The Futureheads
,
Radio 4
,
The Arcade Fire
, and
Fiery Furnaces
have been confirmed for the 2005 edition of the
Coachella
festival.
Ambitious-Outsiders
[see their post on January 25th, 3:50 pm update] admits jumping the gun when he said that
Portishead
and
Massive Attack
were going to play this year's festival, which is apparently NOT true. The confirmed lineup will be announced January 31st. The word for today people is "PATIENCE".
And according to
Ted Leo
's site[see his SHOWS column], Toronto college radio station
CKLN 88.1 FM
will be broadcasting his
Mod Club
show from December 5, 2004. It'll broadcast at 12 am EST on January 29th but you'll also be able to stream it online at
http://www.ckln.fm
.