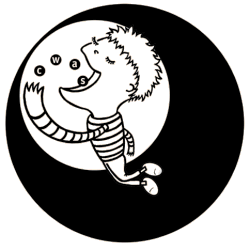 Comes with a Smile
(the print publication) is going through a redesign in 2005. I've been looking for this publication on Canadian shelves for the past several years and even looked for it in several shops in California when I was down there this past May, but I hadn't had any luck in finding it. I was primarily interested in it for the CD compilation that comes with each issue. Of course, proscratination prevented me from ever ordering a copy through the mail. Last week, I was surprised that the local
Chapters
(in Mississauga) had several copies of the current issue of
Comes with a Smile
, but at a hefty price tag of about $16.00 CDN, I passed at the time. Eh, I think I'm going to go back tomorrow and see if I can pick up a copy. The CD compilation with the current issue has a couple of rare/unreleased tracks from
Jim Guthrie
and
Royal City
. How's that for your Can-Con?!
Comes with a Smile
, from my recollection, includes Canadian artists(eg.
Sloan
) almost on a regular basis on its CD compilations. Surprising since the publication is from Britain. [photo from
Comes with a Smile
]
brooklynvegan
has put together a list(including photos and mp3's) of his favourite shows of 2004. Many of the same acts have passed through Toronto, but still I'm very jealous of New Yorkers for getting the chance to see
The Hidden Cameras
OPEN for
The Arcade Fire
, AND to see
Broken Social Scene
play THREE NIGHTS IN A ROW.
Jen at
daily refill dot com
points the way to a great
video
of a live
Arcade Fire
performance from a July 28, 2004 show in New York City.
Jen
also reminds us that
Wilco
will be on
Late Show with David Letterman
on January 8 and
Austin City Limits
on January 9. And speaking of Wilco,
Largehearted Boy
points the way towards a torrent of their show at
Madison Square Gardens
in New York City on New Year's Eve just a couple of nights ago. Only Wilco's and
Sleater Kinney
's sets are seeded but the
Flaming Lips
'(who also played the show) set will likely follow soon. Again another reason to be jealous of New Yorkers. Grrrr!
Every now and then my 13 year old nephew's musical tastes(ranging from
Keisha Chante
, to
50 Cent
, to
Usher
) borders on tolerable, if not downright enjoyable. Case in point:
Young Buck
's
"Bang Bang"
which creatively samples
Nancy Sinatra
's
"Bang Bang (My Baby Shot Me Down)"
. The ultimate mashup and purely sublime.