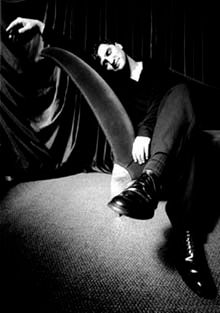 PopMatters
celebrates five years of online pop-culture commentary, including showcasing
Editor's Picks
of various articles and reviews the
PopMatters
staff have written over the years. I can't remember when I came across the
PopMatters
web site for the first time, but slowly it's seeped into my subconscious and become an (almost)daily habit for me. I look forward to another five years...On a side-note(and a great example of
PopMatters
quality),
Popmatters
has quite an informative
interview
with
The Twilight Singers
' Greg Dulli, discussing the death of his close friend(and film director)
Ted Demme
, a new DVD from The Twilight Singers' last tour(with a release date TBA), the much talked about release of
"Amber Headlights"
a record recorded in full just after the
Afghan Whigs
broke up, and the possibility of an Afghan Whigs reunion.
Ben Lee
has signed to
New West Records
, a label which features releases by such artists as
Drive-By Truckers
,
Vic Chesnutt
, and
Old 97's
. Ben's new album
"Awake Is The New Sleep"
will be released in February 2005. [from the
Ben Lee News
announcement mailing list]
Joe Pernice
posts to his
message board
for the first time[well, at least according to his post count], commenting on his beloved
Bo-Sox playoff comeback
...I wish I was more of sports fan to appreciate their win, 'cause I feel like I'm missing something.
A new
Libertines
DVD will be available November 15th. Details to follow. [from the
official Libertines site
, news update October 19, 2004]
Someone posted a
torrent
over at
@forums
of the
PJ Harvey
show from October 15/04 in Toronto @
The Phoenix
. Amazing, how fast this show got posted on-line. It's nice to have a souvenir of such a
wonderful show
. I've already finished downloading it(but haven't extracted it yet). I assumed for a second this was a soundboard recording but then when I read the info details closely, I found out it was a show taped by a spectactor and the taper had hidden the microphone in his hat! :-)
Just around the corner for me and some friends of mine(and likely to make the long winter months more bearable)...
Yahoo! Sports Fantasy NBA
!