concert review: The Organ w/ controller.controller, Pony Da Look @ The Horseshoe Tavern(Toronto, Ontario), October 23, 2004

Over the past year or so, the calibre of Canadian bands I've discovered has been amazing. Yesterday's show was just a sample of such bands, conveniently wrapped up in a nice little package for your viewing and listening pleasure. I discovered Pony Da Look(as well as controller.controller) at last year's Pop Montreal festival. My friend and I got to the Horseshoe just after Pony Da Look started their set. They band consists of four females, one on drums and the remaining members each on keyboards and vocal duties. Such a dynamic is somewhat strange in this day and age. Their music tends towards a electro-punk, new-wavey sound, with a bit of an 80's synth sound. The dark-haired vocalist who took major vocal duties for most of the set had very stark, dramatic vocals, like on their signature song "Dirty Nails". My friend thought they sounded "scary". True, most of their songs had a somewhat sinister sound[due primarily to the vocal style], although there was a song or two of theirs which had a downright happy electro-pop sound. I can't say I'm passionate about their music; I appreciate the aesthetics but it's definitely mood music, in my opinion.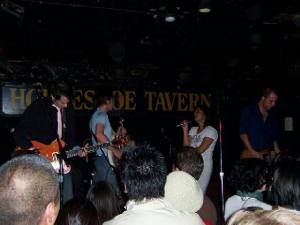 If you know me, I'm always up for a controller.controller set. By my count, this was the SIXTH time I've caught the band live since first discovering the band last October at the Pop Montreal festival. Their lead singer, Nirmala, made her entrance onto the stage wearing her white tshirt and slacks, her tshirt having the slogan "well dressed". How apropo. I've always thought they were the best looking band in Canada. [Their picture in the current issue of Toronto Life, which I purchased today, will confirm that.] As usual, the stage was awash with their signature red lighting. But aesthetics aside, the band played a wicked selection of tunes from their "History" EP as well as some new tunes(I wonder when those will be released). Their dance-punk, death-disco grooves were quite infectious and got more than a few people dancing, although not as many as I would have expected. Hey, I'm not particulary an extrovert, but at least I was moving to the beat. Nirmala was busting some wicked moves yesterday, and the rest of the band were also very energetic playing their instruments. They are definitely an exciting band to watch. The new songs haven't quite sunk in but I did find them in general to be slightly less frenetic than the songs on their "History" EP; I'll make my final judgement on the new songs either when I catch the band live again, or when the songs are finally released. As usual, a great set.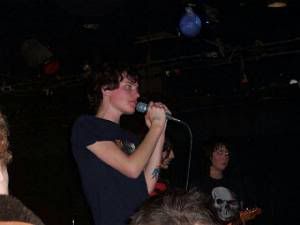 After controller.controller's set, my friend and I went to check out the merch table, and then went back towards the stage to find a decent spot to watch The Organ's set. We ended up near the front of the stage, on the left side. By this time, the crowd was slowly filing in, in anticipation of The Organ's set. The band finally made their entrance onto the stage about 10 minutes early of their scheduled 12:15 am start. That was cool of them to start early because I was really itching to see them play. The band pretty much played, most if not all of their debut full-length CD "Grab That Gun". The girls were spot on instrumentally, with a great post-punk melodic sound highlighted by the Marrs-ian guitar arrangements and that organ...oh that organ sound! The lead singer had a wonderfully stark, melodic vocal style. There was a slight echo to the vocals which sounded terrific and reminded me of Morrissey at times. Other than being a bunch of attractive indie-rock young women, they weren't much to watch on stage. The vocalist did make efforts to walk around the stage and I would say she had terrific stage presence, which made up for the lack of movement amongst the other members. This is a minor criticism however because I was really impressed by the music first and foremost. By some of the enthusiatic fist-pumps and hand-clappers, I would say more than a few others were impressed as well. There wasn't an encore that night, but we won't let the band off so easily next time, will we? [photos from yesterday here.]