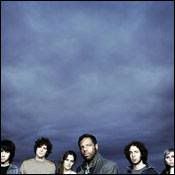 chartattack
reports that
The Dears
were handpicked by
Morrissey
to be the openers for his
KROQ
show in L.A.
The Libertines
self-titled second CD will be reissued with an accompanying DVD of live footage! [From
filter magazine
.]
I finally get my copy of
Matador at Fifteen
in the mail today and
Pitchfork
happens to post a review of it today. Spooky.
Someone at
Tiny Mix Tapes
likes
A Girl Called Eddy
. I say, it's about time. I don't hear enough about her in the music press, let alone the blogging community. I highly recommend you do check her CD out...and yes, sad songs say so much.
And as promised, a tracklisting of a Halloween mix CD I put together about 2 or 3 years ago. It always gets me in a Halloween mood. Some Canadian artists' mp3's are provided below; well, actually three are Canadian and the fourth is I think an American band but I can't remember their name.
'Spooky' Tunes

01) Jonathan Richman - Vampire Girl
02) Squirrel Nut Zippers - Hell
03) Suckerpunch - Zap o' Hell [mp3]
04) Groove Ghoulies - Vampire Girl
05) Amazing Royal Crowns - Do The Devil
06) Shadowy Men On A Shadowy Planet - Zombie Compromise [mp3]
07) Suckerpunch - Witchdoctor
08) Man or Astroman? - King Of The Monsters
09) Garbage - #1 Crush
10) Mazzy Star - Ghost Highway
11) Death In Vegas - Dirge
12) Echo and The Bunnymen - People Are Strange
13) The Cramps - I Was A Teenage Werewolf
14) (?) - It's Halloween [mp3]
15) Yo La Tengo - Can't Seem To Make You Mine
16) Elevator To Hell - Second Conscience [mp3]
17) Jefferson Airplane - White Rabbit
18) Shadowy Men On A Shadowy Planet - Shake Some Evil
19) Coal - Last Train To Satanville
20) Tarnation - Like A Ghost
21) Portishead - Theme from "To Kill A Dead Man"
22) The Doors - Riders On The Storm