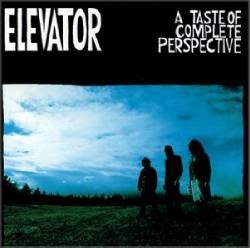 At the last minute yesterday, I decided to head down to the El Mocambo to check out Elevator who are currently on a tenth anniversary tour. (Wow, has it been ten years already?) They're in Waterloo tonight and Hamilton on Sunday, by the way. I have Elevator(to Hell)'s "Eerieconsiliation" which I haven't listened to it for a while and really the only reason I wanted to check 'em out was that the band features Rick White of the defunct Eric's Trip who I admired greatly back in the day. I got to the El Mo around 10:30 pm or so during the set of a fairly decent psych-pop band who I believe were called The Old Souls. The lead singer, with his scruffy unshaven face, was wearing a cool green t-shirt that had the words "Pet Sounds" on it. During the band's set, they had some pretty interesting psychedelic imagery projected across the stage. In certain ways, they conjured impressions of the Elephant 6 scene. I'll definitely check 'em out in the future.

As an aside, I'm not particularly fond of the El Mocambo because they choose to put tables and chairs in the center of the room, at least for some of their shows, which leaves (sometimes)solo concert goers like myself off to the side. That particularly fact didn't really put me in the mood to wait around for Elevator to come on. There was still another band called The Exchanges in between The Old Souls and Elevator and by my estimate I probably would have had to wait around another hour and half(which would have made it almost 12:30 am) before Elevator finally made the stage. After The Old Souls' set, I bailed and decided to check out a couple of other venues. I drove passed The Mod Club where Esthero, after a long hiatus, was scheduled to perform and there was a substantial lineup to get into the venue. Headed up to Bloor St. and drove eastward towards Lee's Palace where Mission of Burma were and from chromewaves' account, the band came on just after midnight. Too bad, I didn't stop because I probably would have been able to buy tickets at the door.

I headed back towards the El Mo and drove past it a couple of times. By the way, my hand was stamped so I would've been able to get back into the El Mo. It was almost 12:30 am by that time and I could see through the window that Elevator still hadn't come on stage. At that point I said, screw it, and took off to go home. Maybe next time, Elevator.
Rilo Kiley speaks to chartattack.
According to LAUNCH, Dot Allison has been collaborating with Pete Doherty(of The Libertines).
Death Cab For Cutie's European tour has been cancelled with details to be announced shortly. I hope it's not anything too serious.
Pitchfork, Stylus, and twenty/forty review the new Ted Leo / The Pharmacists' CD "Shake The Streets"