movie review: Sky Captain and The World of Tomorrow [2004]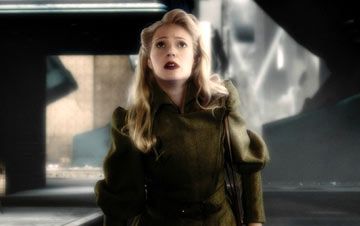 Think of Sky Captain and The World of Tomorrow as an experiment in cinema, where old meets new. The film appears to take place during the 1940's era, but in a slightly alternate universe where technologies are far advanced for the time period than we might be used to. There is a rather simple plot of good guys and bad guys in a situation of diaboloical global consequence. The film is visually effective with the look and feel of an old fashioned movie serial like those black and white sci-fi/adventure movies my parents and likely some of your parents used to watch as children. It was a feast for the visual sense that seemed to utilize alot of painted(or drawn) backdrops; I couldn't tell if there were any digital effects but I guess I wouldn't be surprised if there were some. The acting was adequate but was rather secondary to the visual effects. There was a directness to the plot like in those old fashioned movie serials. Jude Law is Sky Captain who's sort of a special agent for hire and Gwyneth Paltrow is Polly Perkins, a reporter. They were love interests at one time until she thought he had cheated on her. I thought there was good chemistry between Jude Law and Gwyneth Paltrow which straddled the line between romance and wanting to strangle each other. Gwyneth was quite funny portraying the jealous ex-girlfriend, specifically later on in the film, in relation to Angelina Jolie's character Frankie who is an old friend of Sky Captain. Sky Captain and Polly meet again when New York is being attacked by giant robots and from then on the two become involved in getting to the bottom of this diabolical scheme. The film jumps from one wonderful locale to the next, along the way introducing some fantastic technological inventions like the aformentioned giant robots, bird-like airplanes, amphibious airplanes, super laser guns, and so forth. I'm disappointed that the film sort of came and went without any fanfare. I can only imagine that if this film came out in the 1940's, it would have probably been a blockbuster. I guess in an era of The Lord of The Rings, The Matrix and Spiderman, Sky Captain and The World of Tomorrow is definitely of a different ilk. Maybe it's not a coincidence that the film had a dreamlike quality, twisting our conventional views of history and technology, of science and science fiction. Sky Captain and The World of Tomorrow is full of imagination and creativity, and is a movie which makes going to the movies so much fun.
The other day foxymoron mentioned that the new issue of Toronto Life is out and she had expressed her disappointment in the issue for excluding certain up-and-comers, like Metric and Feist, in its photographic portfolio. However, a comment on the post points out that Nirmala of controller.controller did make the cover which makes it more enticing for me to check out the issue. Although, any non-music magazine that chooses to put out a 'music' issue, I will always take with a grain of salt. Check out the Toronto Life article here.
And if anyone still needs a copy of the Jon Stewart Crossfire appearance from October 15th, try downloading it from here[96.6 MB,.AVI] or here[35.7 MB, .WMV]. That is all.
Bjork will be on Late Show with David Letterman tomorrow evening. [from filter magazine]
The Postal Service's "Give Up" LP will be getting a vinyl re-release, including some "tasty b-sides". [from Tiny Mix Tapes]
chromewaves' blog post from today reminded that the anniversary of the death of Elliott Smith is tomorrow and his last album entitled "From A Basement On The Hill" came out yesterday. I don't have anything profound to say about his death. I don't even remember where I was when I found out he was dead. But I was sad for the fact that he was gone, and also that I had never had a chance to see him perform live. R.I.P, Elliott...I read the news on the Sweet Adeline [the official Elliott Smith site] that public memorials will be happening globally over the next several weeks and the memorial in Toronto will be tomorrow at 8 pm, Trinity Bellwoods Park(at the marble gates @ Queen St. and Strachan). I don't think I'll be able to make it unfortunately, but my thoughts will be with Elliott.