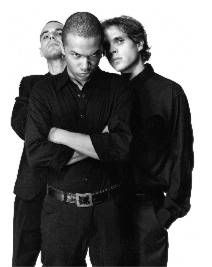 chartattack
reports that
Danko Jones
signs a U.S. distribution deal with
Razor & Tie
records, whose General Manager Josh Zieman proclaims
"This band will blow the roof off of every place they play and we are beyond excited to be working with them."
Danko Jones was dropped by
Universal
earlier this year and the band currently doesn't have a Canadian distribution deal, which I assume means paying f!*kin' import prices when the band eventually releases a new CD. The band plays
Lee's Palace
in Toronto tomorrow.
According to
Billboard
,
The Cure
will be releasing a deluxe edition of its 1979 debut,
"Three Imaginary Boys"
, internationally on Nov. 29 and Dec. 7 in North America via
Geffen
. It's a double disc package which includes the original LP tracks as well as a disc of rarities. The original album was never released in North America but a revamped version including several singles replacing album tracks was released as the LP
"Boy's Don't Cry"
.
Billboard
has the
tracklisting
for the new deluxe package if you're interested.
The Flaming Lips
will be re-releasing their orch-pop
classic
"The Soft Bulletin"
in a 5.1 Surround version although extra features have not been confirmed. [from
Pitchfork
]
Ben Folds
has to cancel a show for the first time in his career and he
apologizes to his fans
.
I've been previewing
The Futureheads
' music
here
. If you're tired of waiting for
The Jam
to reunite, The Futureheads are the next best thing... Yes, I meant that as a compliment. Just listen to
"Meantime"
and it's urgent vocals, wiry guitars, and pulsing basslines. Their show in Toronto on November 1st at
Lee's Palace
should be a good one.