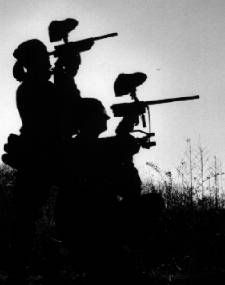 The caption for this post is more than a little fitting, and it's entirely coincidental that The Organ's CD "Grab That Gun" featuring their song "Brother" with the lyrics "We have got to take cover..." was in my car this morning. I went paintballing today with my brother, nephew, cousin, and a bunch of other people, and although I'm entirely against real guns, I enjoyed the experience of paintballing. The company, called Ultimate Paintball, was out in the boonies of Milton just outside Mississauga and the entrance to the facility was just off a sideroad down a rocky beaten path. It felt like I was entering some sort of secret backwoods militia headquarters but on the contrary, the facility was entirely organized. The group of us rented our gear, from the camouflage jumpsuit, to the protective face mask, the paintballs, and of course the paintball gun. We went through a short orientation. We were then divided into two teams, red and blue, distinguished by the color of our protective face masks. This was an entirely all day activity as the group of us played from around 10:30 am to about 4 pm, with a lunch and some breaks spread throughout the day. To keep things interesting, our referee lead us through a variety of different paintball games, from a simple capture-the-flag game, to scenario based games. One game had one team act as DEA agents while the other team were rebels trying to get their Presidente across the 'border'. Another game had us in a 'town' setting with different 'buildings' set up, and more than reminded me of S.W.A.T. There were a mixed bag of people, comprised of both men and women and young teens. Some were entirely gung-ho experienced paintballers and others were first-timers like me. There were dudes in full military gear, and others decked out in their own casual wear. Some were take-no-prisoners-storm-the-battle-field players, while others(such as myself) took a more patient, covert sniper-style approach to the game (man, I took more than a couple of people out who had no idea what I had in store for them!). Although it was a game, there was something very pseudo-military about the whole thing: Firstly, shooting on target takes practice, secondly, the game demands alot of attention to your surroundings because it is very easy to get shot(making it all the more scary to think what real soldiers go through), and thirdly, if your team is to win, the element of strategy is necessary. The same people who blame violence in our schoolyards with video games are likely having a field day with paintballing. However, if you're a perfectly rational person(like myself) who can separate reality from fantasy, one can be an advocate for gun control and still enjoy a game of paintball.
This may not exactly be new news, but you may have heard or read that The Dears will be releasing their album "No Cities Left" on Spinart Records in the U.S. on October 12th. The NEW cover art can be seen over at Amazon.ca. Also, according to Amazon.ca, The Dears Canadian re-release of their "Protest" E.P. will take place on November 2nd.

While perusing the Pop Montreal 2004 programme, an ad for The Dears' live CD "Thank You Good Night Sold Out" (released in Canada on October 26) mentioned that the CD is 68 minutes long, which more than makes up for the fact that there's only 9 tracks on the CD.
This is cool: A cartoon called "Hi Hi Puffy AmiYumi", based on the J-pop band Puffy Amiyumi, will debut on November 19 on The Cartoon Network. Each episode will feature live-action skits of Ami and Yumi along with three 7-minute cartoons of the adventures of animated Ami and Yumi. The show will feature the music of Puffy Amiyumi. A compilation has been put together featuring some of their best hits and will be released on November 16 through Epic Records.
Disco-punks unite! Even though they made Canadian indie darlings Death From Above change their name(subsequently to Death From Above 1979), I'm still excited that DFA(the record label) has inked a deal with EMI and will be releasing a 3-CD compilation of tracks including previously released vinyl only singles. As Pitchfork reports, as to what the EMI deal might mean to the future of the DFA label remains to be seen, but of course will mean better distribution and more funding. Let's hope the label doesn't get screwed.
The Desjardins Vanier Cup Post Game Party on November 27 @ Hamilton Convention Centre will be featuring Sloan. Tickets are $25.00 through Ticketmaster and The Copps Coliseum Box Office and went on sale yesterday. [from Hamilton Entertainment and Convention Facilities Inc.(H.E.C.F.I.]