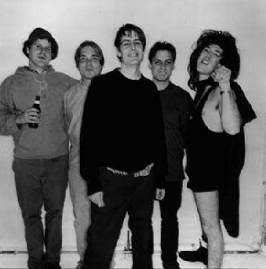 Canadian Pavement/Matador Records fans might want to check out Futureshop.ca. They have Pavement's just released Crooked Rain Crooked Rain: L.A.'s Desert Origins for the very decent price of $21.99 CDN. ...Funny, Futureshop.ca was listing the Matador at Fifteen CD for $15.99(which I ordered online from the site but haven't received in the mail yet) over the weekend but now it's not coming up on the site anymore. Anyways, I received a confirmation e-mail today from Futureshop.ca that they are in the process of shipping it to me. More site searches reveal they have some Stereolab CD's for $7.99 and The Cardigans' "Emmerdale" for $10.99...decent prices, but too bad I already have these. The best thing of all...shipping is free! On a Pavement-related note, The Big Ticket posted a couple of interesting Pavement mp3's yesterday.

ps. Futureshop.ca has Stars' new CD "Set Yourself On Fire" for $12.99!
chartattack elaborates on Billboard's news yesterday regarding the rerelease of Franz Ferdinand's debut CD.
Although I admire Fatboy Slim, I wouldn't say I'm even close to calling myself a fan. His music videos are wicked, however. Billboard reports that Fatboy Slim's Fall seven-date North American tour will take him to unique venues, and he will be starting his tour in Toronto at Film Studios. Fatboy Slim will recreate the set from his "Slash Dot Dash" video for the show in Toronto. Sounds very interesting, and if the ticket price is reasonable, I'll probably want to check this out.
Mercy, mercy me! Spookihaus reports that Stereolab have a compilation of E.P. tracks coming out with an accompanying DVD of music videos and some live performances!
The Shins will be playing Jimmy Kimmel Live on November 5th. [From filter magazine.]
And lastly, my friend and I went to see Team America: World Police yesterday. Seriously, funny movie! It goes for the cheap laughs as expected but more often than not shows a glimmer of intelligent thought under the surface. Ok, maybe the 'Fuck Yeah's' probably outweighed the socio-political commentary...oh well. The pseudo-Garth Brooks patriotic country tune, combined with video of one of the characters'(remember these are puppets) pondering his patriotic duty was hilarious.