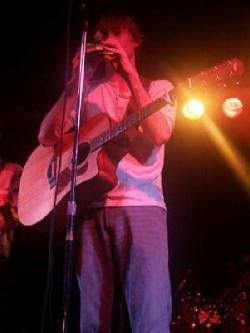 Check out
The Trashcan Sinatra
's tour diary recently updated with comments on the recent
Montreal
and
Toronto
dates. For the post regarding the Toronto show, Frank(the vocalist) writes a brief humorous yarn about walking around Toronto during the afternoon, the day of the Toronto show, and hearing some horrible song with lyrics about Fu Manchu, skydiving, and snowboarding, by
"some joker named Tim McGraw"
.
:-)
....It's a shame more people didn't make it out to the Montreal show and am glad that Toronto gave the guys such a warm welcome(even if the show wasn't sold out). It was such a
special show
that I'm still on a high from it.
Eye
and
NOW
spotlight
Interpol
, in anticipation of the band's Toronto date @
The Docks
on October 13th, which happens to be the last night of my current evening course, so I hope I can shoot over to
The Docks
right at 9 pm...and by the way, where the f!%k is
The Docks
? I just read a
review of the Franz Ferdinand show at The Docks
from last week and the review said the attendance was about 3000 people...God, I hope I don't end up at the back of the crowd for the Interpol show.
Soul Shine Magazine
gives the rundown on
Jonathan Richman
's Canadian tourdates(running through November and December), which include the usual stops(Toronto, Ottawa, Montreal, Vancouver, Victoria) but also include some unexpected(at least in my opinion) stops in Hamilton, Ontario and Guelph, Ontario. And I'm grateful that Mr. Richman's graciously offered THREE opportunities to see him in Toronto (which leaves me no excuses to not check out at least one of his shows).
Hey,
CNBC
's rerunning the
Mcenroe Show
which featured musical guest
Death Cab for Cutie
performing
"Title and Registration"
...umm, it's tonight. Sorry for the late post, but I think they'll also rerun the show later on this evening at 1 am, so check your local listings.
Eye
reports that
The Dears
' Murray Lightburn was awestricken at the news of getting to meet
Morrissey
when The Dears open up for the Moz in Toronto on October 12th. ...I mean, the guy actually wept for two hours after he got the call to play with his idol.
So while I was at my evening class yesterday,
Brian Wilson
was
playing with vegetables
at
Massey Hall
. :-)